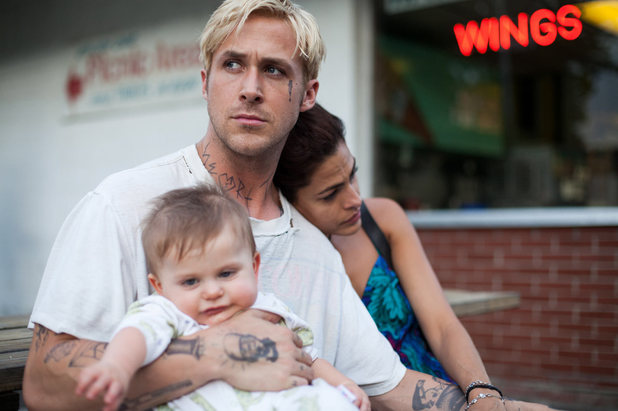 4.5/5
A Location Between Perfection
.
140 Minutes. Starring: Ryan Gosling, Bradley Cooper, Eva Mendes, Dane DeHaan, Emory Cohen, Ray Liotta, Ben Mendelsohn, Rose Byrne, Mahershala Ali, Bruce Greenwood, & Harris Yulin. Director:
Derek Cianfrance.
Ryan Gosling and Bradley Cooper in the same movie?! Fellas your girlfriend must be dreaming...but this ones for you and I'm not talking about some weird man crush thing (show of hands). The two actors are in a place between the Chris Pine, Josh Hartnett and Leonardo DiCaprio, Brad Pitt acting stakes of pretty boys turned good actors. Now after showing more of themselves in 'Drive', 'The Ides Of March' and 'Limitless' and 'Silver Linings Play Book' respectively Gosling and Cooper come together for 'The Place Between The Pines' that will go down as one of 2013's best told stories in cinemas. An epic film taken place over 15 years that shows the rises and falls of two men on two different sides of the law and the effect a fathers choices has on the echos of his sons life.
It all entwines into a brutually beautiful but hauntingly heartbreaking story of complex characters. What else would you expect from the Gosling/Cianfrance actor/director combo of 'My Blue Valentine'? Gosling swaps the 'Drive' of a classic American muscle car for a dirt bike and the cool Scorpion jacket for a red leather one. Add some peroxide and tattoo's and you have a guy that looks like a place between Eminem and Axel Rose, but beneath the surface of Gosling's stunt motorcycle character is the substance of a desperate man dying to provide for his son by any means necessary. It's intriguing and inspiring and hopeful and harrowing to watch. Gosling does it again, adding another incredible performance and what will go down as another cult classic in his career.
We've known Gosling is a top tier talent for the better part of a decade now, but it's only recentely we've begun to see just how good Bradley Cooper is. More than a funny 'Hangover', the Academy nominated star has shown his 'Silver Linings' and how 'Limitless' his talent truly is. Another desperate man in his own right, Coop plays a beat patrol
cop with eyes on more than just his share. With the political backing of his father he just wants to do the right thing, but in a world full of wrong how does this man survive swimming with sharks? Especially when those he's trying to catch are just trying to do right by getting by. It's a complex, crafted idea of good and bad which is more than just your traditional cops and robbers story. Which side do you choose between the pines? Whose right and who's wrong? To reveal more would ruin the great nature of this story but trust us Gosling and Cooper will play it out for you perfectly with tension and tears. This is real man stuff for the GQ generation.
If you thought the two male lead
s where enough of a selling point then just wait until you see the rest of the cast. Underrated top actress Eva Mendes shows us just how great she really is with Mahershala Ali by her side with significance.
While hardest working actress of the moment Rose Byrne is another wife in the middle of it all. Ray Liotta shines with sinister intentions in his screen time, while fellow 'Killing Them Softly' actor Ben Mendelsohn brings his Aussie charisma and charm to a likeable...no loveable criminal. It's hard to believe this chameleon character actor was a rich suit with no moral centre in 'The Dark Knight Rises'. This is just how good the rising talent of Mendelsohn is. When he's on screen in the right movie...Shazam! Harris Yulin also brings age and wisdom to the piece and what is it with Bruce Greenwood's congratulating bedside manner lately? Here he brings more sass to his style.
Still this is a father and son story and our boys here do well. Emory Cohen plays a perfect portrayal of modern youth, but it's Dane DeeHan that may just be the young actor of the moment. The unique, mature 27 year old talent can still play teens convincingly. Now after his HBO 'In Treatment' and an akwardly charming and moving performance in last years greatest movie 'Lawless' he raises the stakes yet again in what will be one of this years best pictures. There's just something about him. Echoing Gosling between the pines he just brings all of these complex characters and plotlines together perfectly...what more can you say then that? It's all on DeeHan. With a piano perfect moving soundtrack and the best use of Springsteen and Bon Iver since 'Warm Bodies' (another of this years best) this picture looks and sound the part. With thrilling, dark
drama that ups the amazing action ante this switching narrative of life
is as real as it gets. When your talking about modern greats for the moment, make sure 'Pines' has its place. TIM DAVID HARVEY.