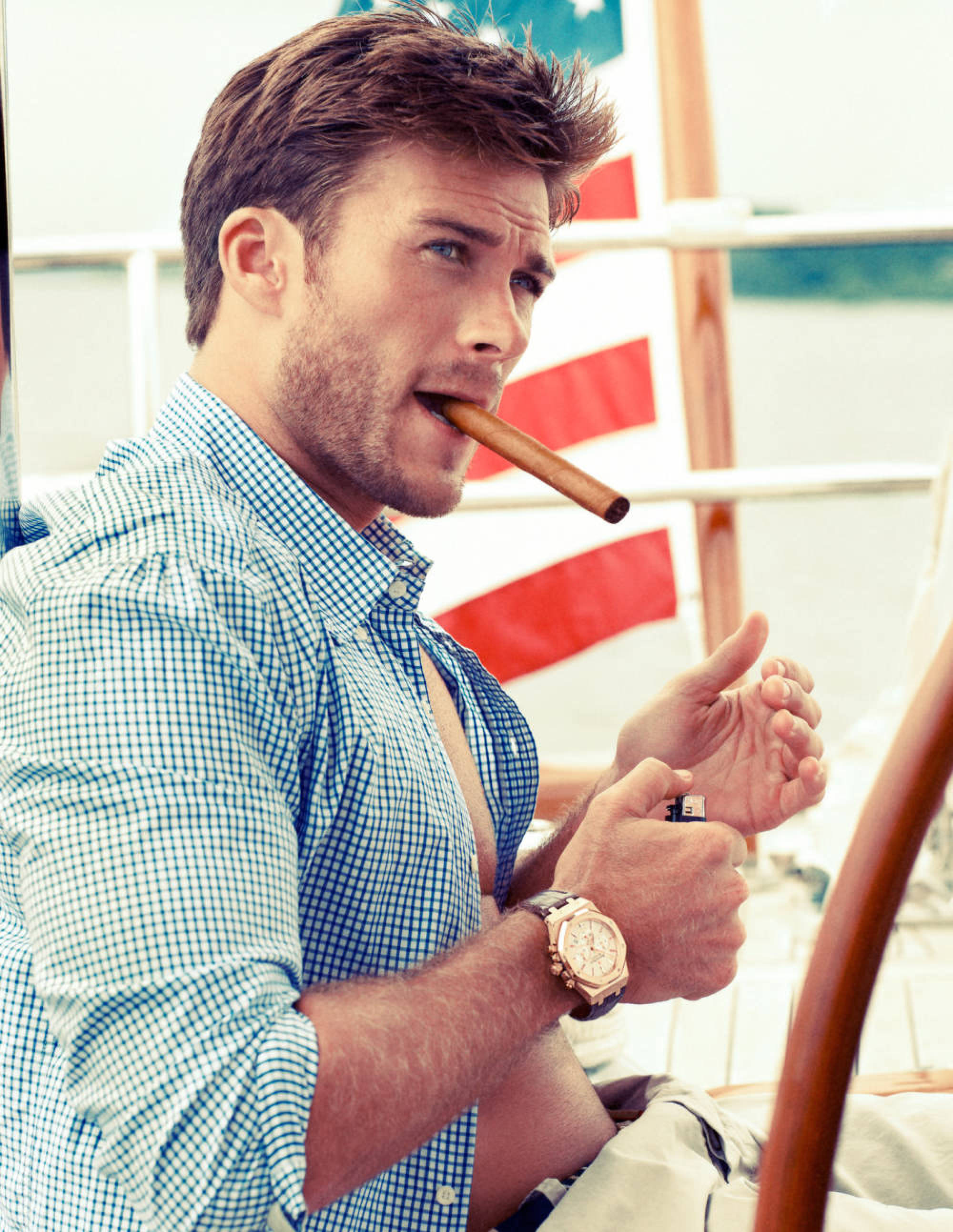 Like Father, Like Gun.
By TIM DAVID HARVEY
"Shut up p###"! Clint Eastwood just owned his son in front of a group of guys and a young girl. To make matters so embarrassingly worse, those guys where bullying the hell out of him and threatening to kick his ass and it appeared like that young girl was his date too. 'Was' being the operative word now this kid is humiliatingly fearful for more than just his own social life. Damn dad! "These guys don't want to be your "bro" and I don't blame them" pops continues...and all he said was; "way to go old man"! "Hit the road", Clint concludes in trademark 'Dirty Harry' cantankerous sneers. Daddy's orders! Then in a few, made up years later, front and centre Eastwood senior put his junior in front of millions of people for a moment that will always be remembered. In celebratory conditions or commiserating ones of conclusion. Still Scott strikes, again and again. Drop kicking South Africa to a World Cup victory as place kicker in front of Nelson Mandela...or is that Morgan Freeman?! Wait...what! I guess that's just the life you have when your family grew up in Hollywood. Especially when your father is legendary actor Clint Eastwood, with a fistful of dollars and Oscars. The actors, actor, academy acclimated, who in recent decades, from 'Mystic River' and 'Million Dollar Baby' to last years 'Jersey Boys' and award acclaimed 'American Sniper' has shown he is a dominating and defining director in his own right. Whether on-screen or not. As a matter of fact, he may even be a better director than actor if you can believe that!? As unbelievably at 83 he is still crafting his legendary legacy when most would be retiring for the Hollywood hills.
Still for those who miss those old Hollywoodland heartthrob days...don't. You can see more than a reflection of the young Clint in his acting son Scott. He's the new American classic. Just check out the press photos. Still young Eastwood is his own man, just like the opportunities he has been given in films alongside his father, whether directed ('Flags Of Our Fathers') or other star swings ('Trouble With The Curve'). Small but significant roles that show this young 29 year old man is ready to breakout for real like his father did then. With a 'Gran Torino' (you didn't really think he cursed him out like that for real? Did you?) and 'Invictus' (playing SA legend Joel Stransky to every point) helping hand that only pointed him in the direction he was meant to find himself...and boy did he! Finding that sweet spot and knocking it out the park. Like Chris Pratt's 'Moneyball', home-run cameo, that knocked it out the 'Parks and Rec' before he became the 'Guardians Of The Galaxy' and 'Jurassic World' megastar that he wasn't even this time last year. Now its Scott's Star-Lord moment! Ready to show the world the actor he was always meant to be, aside from his genes, or Hugo Boss clothing modelling gigs. The kind of actor aiming for those pretty boy to real deal, Hollywood heartthrob, leading man ranks reserved for the DiCaprio's, Pitt's and Clint's back in the day (the godfather of acting knowing all about this, from working with Leo on 'J. Edgar' to Brad's wife Angelina Jolie on 'Changeling', two ugly-truth classics). The kind of status that a few good roles can take you to...if you're the man to do it. Like say a Jake Gyllenhaal or Bradley Cooper. We kind of think Scott's that guy too. He comes from that sort of family. Half brother Kyle's been an accomplished, successful jazz singer for almost as many albums as years. Kind of how long sister Alison has been modelling herself. Looking like a family so famous their other sister Francesca and mom have their own reality T.V. show ('Mrs Eastwood and Company'). Still between music and mainstream it seems like this young Scott is about to be the most successful thing this East of Hollywood since the man Clint.
Great Scott he just needs that one role. And who better to give it to him than a Nicholas Sparks book? The hit authors latest romance of the pages has brought to life a film for real lovers that is definitely many shades better than 50. Playing a champion bullrider ready to make a comeback, this man has been riding the bronco ever since 'You've Got Served' (credited, like in 'Flags' as Scott Reeves) and been staying on for a good decade. Now its his time to tame the beast, have his own 'Dallas Buyers Club' moment and tip his Stetson to the Western world of movies of his father, whose last name he now carries, like his first one in his full title (Scott's middle-name is Clinton like president). There's just something about this guy. You know he's going to be great! The kid from Monterey, California is all Hollywood now. Ready in the next generation of greats who would leave their home for more if it wasn't for the scripts piling at their door, like James Brown/Jackie Robinson biopic prince (to Jamie Foxx's king) and Marvel Black Panther Chadwick Boseman. He's had his leads in horrors like 'Texas Chainsaw' and thrillers like 'Enter Nowhere', as well as a Windy City career change with some small screen shine on shows like 'Chicago Fire' and 'PD', but now this is not only his big screen moment. It's his year. Last fall in the Oscar ignored, but history scored 'Fury', Eastwood started alongside the likes of Brad Pitt, Logan Lerman and Shia LaBeouf in a small, but seriously significant role in the brilliant war, tank-torn drama of 'Saving Private Ryan' credentials. Not only was the man that is now not just only seen as Clint's son instantly recognisable for himself, he was also immediately impressionable. This influence, along with his Sparks inspiration has propelled him to the stars. Now if that wasn't enough he's set to feature big in the highly-anticipated 'Snowden' biopic alongside the famous face of Joseph Gordon-Levitt, (who went from child star, '3rd Rock From The Sun' recognisability to hit recording his own future fame and formidability) and woman of the moment (you can even find her in the pages of GQ like Eastwood), 'Divergent'/'Fault In Our Stars' star Shaline Woodley. Want more for your justice? Well the Justice League will have to watch out, along with Marvel. D.C. have literally just scooped up Scott for their villainous 'Suicide Squad' movie, alongside the big-name likes of current 'Focus' stars Will Smith and Margot Robbie, hottest, young model in the world Cara Delevigne, Jai Courtney of 'Die Hard' and 'Terminator' fame, Viola Davis and of course 30 Seconds To Mars frontman and Oscar winner Jared Leto, holding all the cards and having the last laugh as the eagerly awaited Joker of this pack. All though currently under wraps, we cant wait to see who Scott will play. Just like we cant wait to see who he'll play in years to come for a career that's coming alive with 'Suicide' and 'Fury'. Pops couldn't be prouder. This kid is taking the Eastwood name and legacy for an even longer ride in this 'Gran Torino'. Way to go young man!