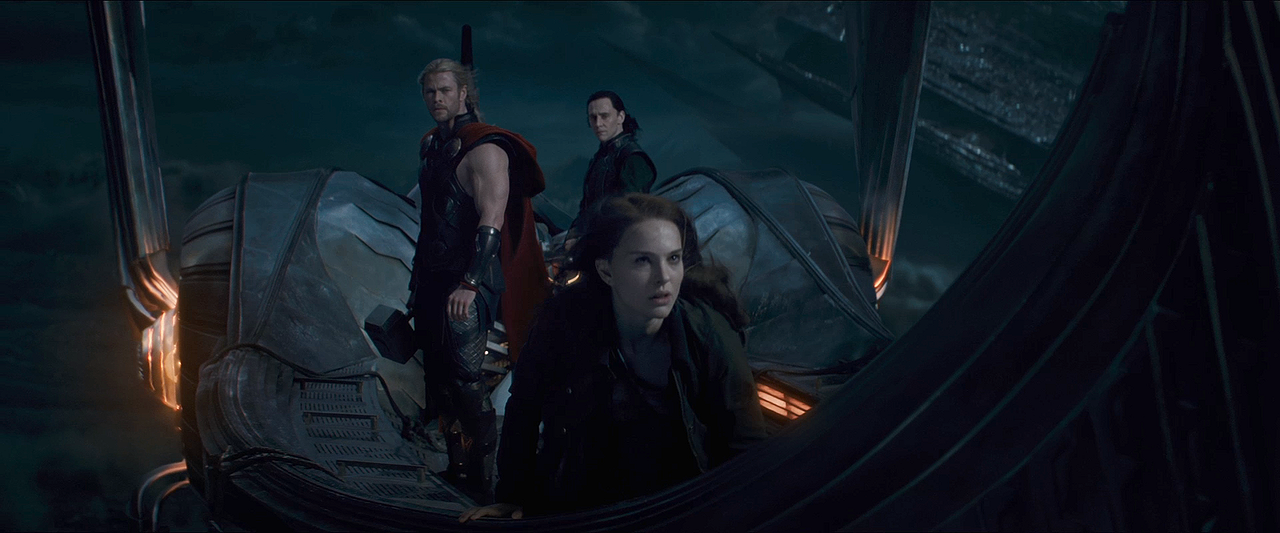 'Thor'/5
Game Of Realms
.
112 Minutes. Starring: Chris Hemsworth, Natalie Portman, Tom Hiddleston, Anthony Hopkins, Stellan Skarsgård, Idris Elba, Christopher Eccleston, Adewale Akinnuoye-Agbaje, Kat Dennings, Ray Stevenson, Zachary Levi, Tadanobu Asano, Jaimie Alexander, Rene Russo & Chris O'Dowd. Director: Alan Taylor
.
Are thou in a gaming mood? After the classic comic-book, all-time assembling of
'The Avengers'
(depending on which country you're in) last year, Marvel's Phase 2 is looking more exciting than the classic/origins mix of
'X-Men-Days Of Future Past'
. We've recently had a primetime T.V. show ('
Agents Of S.H.I.E.L.D
') and the epic third part of the Robert Downey Jnr comic
'Iron Man'
trilogy to truly enjoy with Marvel's lighter approach to their dark Batman led D.C. battle. What could be more fun, full stop than that before we expose the dark depths of Captain America's
'Winter Soldier
' or the green envy of the ever-changing Hulk? Well it's time to dust off your mothers drapes, because the mighty god of thunder, come 'Thormula One' driver Chris Hemsworth is back in a '
Rush
' of fall films as Thor in the super sequel
'The Dark World'
. Kenneth Branagh's bold first '
Thor
' movie took everyone by surprise with a Marvel legend older in history than even Cap and became many peoples favorite character and film (especially the fan girls) even with RDJ's charm and Chris Evans muscles. Oh and yes this case of Shakespeare in the park is bringing THAT brother along for the realm ride too. With these two battling back-to-behind the back, Marvel are just still so unstoppable.
Now Branagh may be joining Hemsworth's on-screen
'Star Trek'
son Captain Kirk in Chris Pine's new '
Jack Ryan
' thriller (rest peacefully Tom Clancy), but Thor is back and all magically medieval across the Nine Realms with Alan Taylor, the director of THE T.V. series ('
Game Of Thrones'
) that's even putting movies to shame like a
'Band Of Brothers'
after '
Saving Private Ryan'
. Still even with the darker and more traditionally beautiful, ravishing realm direction of mainstream throne taker Taylor it's the dire straights of these brothers in arms that makes for this film, franchise and series' dynamic direction. No matter how great they get in the next legion of pretty boy Pitt, DiCaprio actors turned good, Chris Hemsworth and Tom Hiddleston where born to play Thor and Loki. It's what hammered down the first films story arc in a Marvel franchise known for it's epic lesson learned story-telling that matches it's comic effects and laughs. The sibling rivalry was what set the tone and tide of worldwide change in New York for
'The Avengers'
movie where Loki stole the show behind a pane of glass, leaving everyone else in the outside looking in. Imprisoned behind those same Khan inspired see-through
'Silence Of The Lambs'
jails that Avengers director Joss Whedon actually used with cult comic vampire Spike in his coming of age '
Buffy
' series, Loki's tricks, schemes and game of emotions are set free once again. Now not having the two brothers meet into an hour into the film is a De Niro/Pacino '
Heat
' masterstroke by Taylor, but when they do meet it's a storm.
A forecast of brotherly banter and argument angst make this the perfect partnership that strikes the fine good guy and bad guy line between sidekicks and villains. If you thought it got cloudy with a chance of meat and balls when Thor touched down on earth and flew Loki out of a S.H.I.E.L.D. jet to a forest of force, then wait until you battle walk through this one. With Thor reluctantly enlisting the help of his imprisoned, wayward brother Loki who will know if this difficult domestic partnership will assemble for the good or the dark side in this dark world. All we know is that in a franchise that can twist and twist and turn the legendary Mandarin into Trevor Slattery and possible back in for the better or worse of the fans. Besides didn't Loki stab Agent Caulson through the heart with his sceptre anyway? All you need to know is that this is probably the most entertaining, fun film of the year that has seen an incredible coral of comic-book and sci-fi movies from the '
Man Of Steel
' to
'Star Trek's
own dark sequel. It's been quite a year of blockbusters and Thor ends it all with a thunderstruck bolt that could even make '
Iron Man
' and AC/DC look as tame as...well that Euro-Dance '
Blue
' song. Rocking with a hammer and his
'Point Break'
hair out, Chris Hemsworth's fall swing could make him THE leading man of 2013. With his '
Rush
' of charismatic fuel to Ron Howard's Formula One drama and proving himself worthy of this kingdom and realms, Hemsworth is the right, one, true king.
Hollywood now must go Down Under, via Great Britain as the classically trained Tom Hiddleston is showing everyone from Benedict Cumberbatch to the Joker that he holds the card as top villain and classically trained actor. Even stepping up the conflicted, troubled sides of the lost boy who wants to be king from the first movie and raising the stakes he opened up to a whole new world in
'The Avengers'
, Hiddleston is out of this realm and ready to leave even more quims and fan-girls mewling. As great as Academy certified Natalie Portman is as our bearded warriors love interest, it's the bromance between Thor and his Shakespearean brother that steals all the bases and knocks it out the park. If you thought the relationship between these two brothers and actors couldn't get better for the worse, then just wait until this franchise goes film for film, like comic-book, for comic-book. You'll laugh, you'll cry, you won't believe how much you want more. These two actors where relatively unknowns just years ago but now they headline a stellar cast that really is a mix of future A-listers and Oscar legends. Portman makes a welcome return after a makeup break that saw her shipped away by S.H.I.E.L.D. in '
The Avengers
' movie for safety and possibly salary reasons. With her crack team of one broke girl striking rich in Kat Dennings and the ever versatile and hard-working Stellan Skarsgård, these scientists show more big bang to their theories. While a '
Doctor Who
' steps out of the Tardis and becomes the perfect villain that
'The Hobbit'
would be proud of as Christopher Eccleston becomes a dark elf with the help of Adewale Akinnuoye-Agbaje who has found and unwrapped quite the career after
'The Mummy
' and '
Lost
'.
Speaking of '
Who
', the man who was rumored to be both that and Bond gate keeps the kingdom of Asgard as dryly as he can with another subtly hilarious turn. Idris Elba might not be shouting and delivering rousing, inspirational
'Independence Day
' speeches like he did in
'Pacific Rim'
, but with fewer words he makes his mark and presence known on guard and in control of Anthony Hopkins' world. The '
Hannibal
' legend himself wakes up from his Odin, beer soaked sleep for another great performance with his shouting speeches and between the teeth pronunciations of power. With his loyal wife by his side Rene Russo shows she can still kick ass and look great as Queen. Thor's band of merry men return too from Jackie Chan to Xena Warrior Princess. Ray Stevenson (who made
'The Other Guys
' that much funnier) with his beard, Tadanobu Asano (with his own, new beard) and '
Chuck
' himself Zachary Levi (who replaces the Chris O'Dowd (who actually makes a funny cameo here) looking Josh Dallas (Levi was originally meant for the role but was '
Tangled
' up with Disney) who has his own Prince duties to deal with in '
Once Upon A Time
') joins the rising talent of Jaimie Alexander, who earns more screen time as much as she should affection from Thor. After all he has her sword and counsel to rely on. This all makes for an incredible cast that even features the greatest Marvel cameo ever and we aren't talking about the classic Stan Lee one, which is as hilarious as ever. You know this is something to Marvel at. You better stay behind after the credits for more shawarma surprises in a movie that is a thunderous Thor-de-force from start to finish. From it's beautiful beginnings of visionary cinematography to the brotherly love/hate that really bonds this story and film together you can trust that this sequel will be just as great and grand if not bolder and better than the outstanding original.
From hilarious tube-stops to one-liners on the other end of the ringtone the light relief is as hilarious as the action and special effects that are blockbuster amazing. With so much fun and excitement you'll throw your drink down and proclaim "ANOOTHEEER" in homage once again. Alan's tailor made direction takes the crown as king, and with Chris Hemsworth heading the throne looking like Sean Bean this is one game of realms that's bawdier and bolder than the rest. These Norse Gods mead more than vikings and with their wooden s.h.i.e.l.d.s show that the future of 'The Avengers' lies somewhat and somewhere in the tradition of the past and a whole new world for Disney.
'The Age of Ulton'
may be upon us, but first we want another from the brothers that made the first film that thunderbolt of lightening, very, very exciting. You'll be crying Gallileo for these kings and queens wanting to add another film to you're epic Marvel DVD collection that one day could out shelve the epic comic-book one. In a time where cult fans treat these stories from cell to screen like sacred text, this sequel does it by the comic-book with a God of Thunder legend that strikes twice, the right way into the heart of the story. With more spin-offs at the ready from and for Vin Diesel to Bradley Cooper, these '
Guardians Of The Galaxy
' are about to be let into the Marvel universe, but right now the jewel of the realm belongs along the Bifrost in Asgard. It's Thor's world now and in an '
Avengers
' alliance series whose characters make each other step it up in the ultimate friendly rivalry has the metal man or the ultimate shield got what it takes to assemble more or will they just be Hulk sick green? From a fall season
'Catching Fire'
with
'Lords Of The Rings'
, the god of thunder was reduced the competition to rocks and rubble. It's all his now. Number one with a hammer down. Anyone else?
TIM DAVID HARVEY.