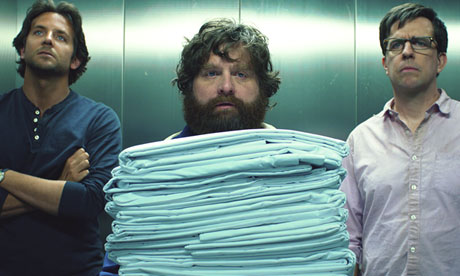 III/5
One More Shot
.
100 Minutes: Starring Bradley Cooper, Ed Helms, Zach Galifianakis, Ken Jeong, Justin Bartha, Melissa McCarthy & John Goodman. Director: Todd Phillips
.
You know the feeling. You swore you'd never drink again after
that
night...and
that
night after that, but here we are again with another hangover. Here's one that will make you feel better however. Yes that's right ladies and gentelman the wolfpack are back and Phil, Stu and Alan are always guaranteed for some howlers in
'The Hangover Part III'
. After the critical and commercial success of the first classic, a sequel was always going to happen. After the hilarious, albeit carbon coby structure of
'Part II'
director Todd Phillips offers us something a little different for the final part of the trilogy. It all ends here.
Bangkok made for a brilliant backdrop for the second film, but it was missing some magic that the first film birthed along with the budding careers of Bradley Cooper, Ed Helms and the one and hairy Zach Galifianakis. Now where else can you find magic but Sin City? Phillips and his pack have learnt that when unforgettable moments happen in Vegas you should stay in Vegas and just like the
'Oceans'
series this investigation comedy heads back home after it's second foreign feeling (in more ways than one) installment of the trio. As Vegas as Brandon Flowers these boys have got away with a killing again. This film may be missing some Tigers and Tyson's, but there's plenty more to chow down on.
Yes that's right Ken Jeong is back and as hald-palming hilarious as ever, with a great re-introduction and a version of
'Hurt'
that could even make Johnny Cash cry (plus one of
'I Believe I Can Fly'
that could make R. Kelly sue). He is yet again the guy-without the beard-causing these guys all the trouble. Don't count Alan out however. Galifianakis is on top-form as Alan gets even weirder and wondeful with his intervention inspiring insanity. From giraffe's to high-notes he's hitting it all. Ed Helms stamp and signature dentist-chair scream makes for some of the films funniest moments and the charismatic Bradley Cooper is on top charm form. The man who has shown he's a real actor in any field (see
'The Place Beyond The Pines'
his after hangover film
'Limitless'
and his Oscar nominated
'Silver Linings Play Book'
) still shows he can run with the gags.
OK, so it's getting ridiculous that one member of the wolfpack is getting less screen time, but that's all part of the joke with Doug's character and Justin Bartha is a good sport playing it up perfectly. If that wasn't enough 'Black Doug' (Mike Epps is welcome back along with the likes of Heather Graham, Jeffrey Tambor (briefly), Jamie Chung (even more briefly) and more. Still, it's the new characters that make the biggest impacts. Hardest working character actor of the moment John Goodman makes for a great villian while having the female hangover
'Bridesmaids'
star and funniest woman on the planet Melissa McCarthy rings up some of the best moments in a film that ties the trilogy up perfectly in a bow.
With tip of the hat references to the first two parts that dont bowl over to suiting up the same way this film is a fresh final part to this series. With casino climbing and house heists this film that was always part of a trilogy that was half funny/half journey has it all playing it's cards right. This should definitley be the final hand however as Todd Phillips knows how to fold with a decent pair after the first ace up his sleeve (just like he knows how to use Kanye records). Another
'Hangover'
would be a headache. After the best joke after the credits makes up for a lack of a photo finish this trilogy has a lasting laugh. After a memorable three nights that fans will be quick to forget it's time for the detox. This is the morning after and it's time this series stays where it's at but we'll never forget Vegas. Heres' to the final round.
TIM DAVID HARVEY
.