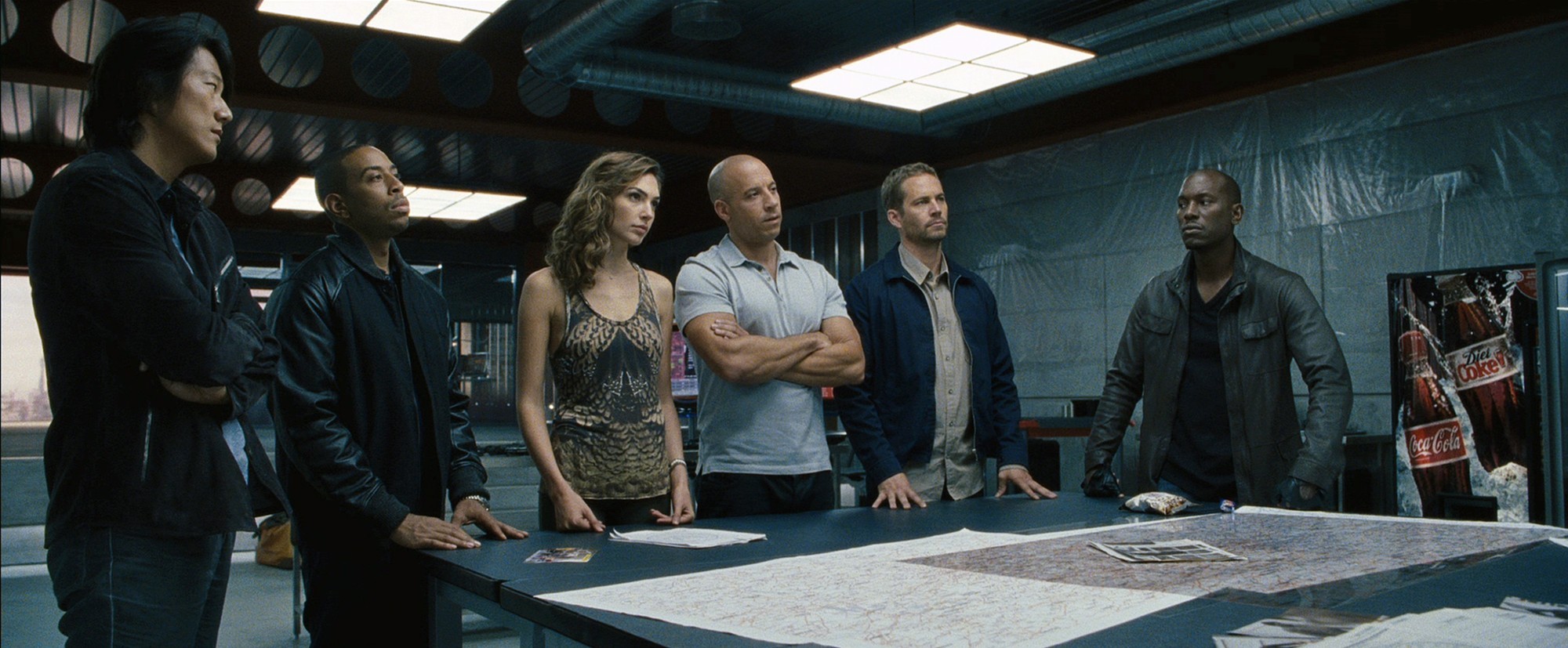 4/5
GTA: London
130 Minutes. Starring: Vin Diesel, Paul Walker, Tyrese Gibson, Dwayne 'The Rock' Johnson, Chris 'Ludacris' Bridges, Sung Kang, Jordana Brewster, Michelle Rodriguez, Gina Carano, Gal Gadot & Luke Evans. Director: Justin Lin.
I bet you would have thought they would have run out of road by now...but as
'Fast Six'
takes off it looks like Vin Diesel and co aren't even running out of runway. After
'The Fast & The Furious'
launched the new millenium and the fuelled careers of Diesel and Paul Walker who would have though the franchise would still be here 12 years and 6 films later? After R&B singer Tyrese and rapper Ludacris ignited fun into the sequel
'2 Fast, 2 Furious'
, director Justin Lin took the wheel and the series to Japan with star Sung Kang for
'Tokyo Drift'
. Then in an age of reboots Lin remodelled the franchise and brought back all the original parts for the DVD ordering confusingly titled
'Fast & Furious'
which really brought the series back to its beginnings. Then came the biggest and boldest yet as
'Fast Five'
brought everyone back and even a top wrestler along for the ride in an
'Ocean's Eleven'
style heist flick that was a modern day
'Italian Job'
for the chrome rim, spoiler genereation. You can almost hear Michael Caine scream "you where only supposed to blow the bloody budget" because now the
'Fast'
franchise makes a sharp turn to London as this furious force of a series gets into the
'Police Academy'
numbers.
Still just when it looked like this series couldn't go any faster it taps the fuel injection one more time for another boost that has everything bar a Caine cameo (some other Brits make their mark however). As
'Furious Six'
swaps the sun and shine of Brazil for the grit and grime of London the stakes get raised along with the drama and the shifting gears in a darker, bolder take on this series that is defying all the critics and the odds. You thought they couldn't do it again? You thought the Diesel and The Rock couldn't get along? You thought Rio was their last job. You thought Letty was dead? You thought this film was just going to be a cash cow spilling milk? Think again. With more stunts, jokes, set-pieces, street races, action, drama, torque and speed an argument could be made for this passing
'Fast Five'
or the original as this franchises favorite. One thing that can't be debated is in a blockbuster heavey season-that's already seen more Avengers and trek's that have boldly gone where no man has gone before-this film still keeps up as one of the most entertaining, now guiltless pleasure, popcorn movies that are keeping the action flick genre alive and shooting with more gears than guns.
In this
'Expendable'
action star ageing time, guys like Arnie and Sly are still doing it, albeit with wrinkles. Still, one man who isn't reaching for the Oil of Olay or
'The Expendables 3'
script just yet is Vin Diesel. Even in his forties with Diesel power and actual acting smarts, the thinking man's hard-man is on top of the action hero game. He continues to make his play here with all his pieces primed and loaded. The next action star of our times Dwanye Johnson also shows you don't have to call him 'The Rock' anymore. Can you see what he's cooking up? He's got the stones of an actor, wrestling between both sides of the law as he alings with his former on-screen foe to take down this pictures perfect villain Luke Evans. With UFC fighter Gina Carano going haywire alongside him you better have your thunderwear on. This films a storm. If you like your dessert first there's plenty of action from Rio to Spain, planes and F1 style flipping automobiles and everything inbetween. Now as for the damn veggies there's more twists and turns then the famous street races that make a welcome return here after their teasing cut in
'Fast Five'
.
The code of family that Vin's character lives by is still strong just like old times. Paul Walker (who has recentely drawn rave reviews for a future performance...stay tuned) steps his acting game up as his life and relationship with his best friends sister (Jordana Brewster with another class contribution) changes. If you thought that was the only relationship that mattered now, then wait until you see how the drama of the love between surviving series favorite Sung Kang (DON'T GO TO TOKYO!!) and former Miss Universe contender Gal Gadot plays out. Not in this world of fast cars and girls would you think you would see something so sincere. Then again did you forget about the ride or die relationship of Vin and Michelle Rodriguez's characters? That dynamic is reborn here for arguablly what gives this family affaired, fast action flick it's emotional balance. Let's not forget the two guys that gave the second film in this franchise a chance of crossing the line. Musicians Tyrese and Ludacris show they are really actors too making it look all
'Too Easy'
as they keep the one-liner laughs rolling along with the action punches (just wait until you see Tyrese deal with a tank...and we aren't talking about the member of his supergroup with Ginuwine, TGT).
In fact when you see the big-three of Vin Diesel, Paul Walker and Tyrese Gibson-who kept this series going from the start-battling with a literal artillery of action you see just how far this film has come. There's more gas in the tank for a film that has proved it's here and welcome to stay...like you should just after the credits for what looks to be an inspired and intriguing seventh installment. Can you believe it? Seven films? Seven films that live a quarter mile at a time and show that whether they make dollars or millions winnings winning...and that's what exactly what they do. Now the only disappointment would be if we didn't see Eva Mendes in the next ride (she was the post-credit teaser at the end of the last film). Mainstream directing mogul Justin Lin has both hands firmly on this franchise and after steering it in the right direction he's weaving all the plots and themes together in a tale that you thought was just about the nuts and bolts of automobiles. This positive bond themed, action satisfying series has gone in a different direction then just being as basic as a spanner. It's reversed all notions and is still going at a fast forward pace. There's more under the hood than you thought.
TIM DAVID HARVEY
.