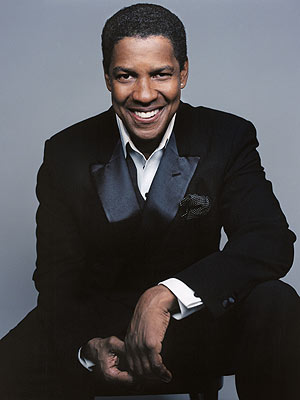 Washington D.W.
By TIM DAVID HARVEY.
What do you see when you look at Denzel Washington? The worst cop to ever spend a 'Training Day' with? That 'T.V. Guy' off 'Philadelphia' that wants you to explain everything to him like he's a six year old? Malcolm X? Rubin 'Hurricane' Carter? James Bond? The Black Panther? A guy that's a little bit too Danny Glover for this s###? One whose 'Glory' days are behind him? Or quite simply an Academy Oscar winner? One of not only our generation and African-American's best, but more maturely and rightfully so one of the best actors that Hollywood and the wider world has ever seen. Still on top of his A game today. Albeit suffering from the ignorant underrating that even fellow big names Brad Pitt, Tom Cruise and his friend Tom Hanks get today despite their outstanding output? BINGO! You got it! This man didn't just follow in the footsteps of Sidney Poitier and Morgan Freeman to pave the way for the likes of Will Smith and Jamie Foxx. This isn't black and white, or young and old. They haven't made black and white movies for decades now. This is bigger than race, age, gender or any stereotype. Denzel is right there with the DiCaprio's, McConaughey's, his new co-star and the aforementioned actors. The best of the best. Yesterday, right now and forever.
As of right now however, Denzel Washington is 'The Equalizer'. A hitman like hero in a new action attacking thriller that features some brilliant, 'Book Of Eli' hand-to-hand combat. Reuniting him with 'Training Day' director Antoine Fuqua, this may not exactly be Oscar territory like 'Philadelphia' co-star Tom Hanks' starboard turn with 'Captain Phillips' last year (that's right we still think he was snubbed), but that's O.K. Not everything has to be and besides we know the 'Flight' plan of this actor is still on an Academy track. Also based on an old T.V. show, 'The Equalizer' could give this amazing actors equally formidable filmography its first franchise later in his career. Much like when Tom Cruise brought 'Jack Reacher's' stories to life a couple if years back. Speaking of Cruise, Washington has just taken over his role in 'The Magnificent Seven', again with Fuqua. Thanks to this new entertaining movie rumours are also rife for a new 007, or Marvel's own 'Black Panther' movie (in playing literally the worlds first black superhero, Washington may be a little too seasoned. Although he'd make the perfect, classic cameo for the father of our hero and the actual, original Black Panther). Even if these names where just thrown around with the light hearted idea of the 'Green Lantern', like he was once again fighting with 'Safe House' co-star Ryan Reynolds. Still the fact that Denzel's name rings some truth with these roles show critics the almost sixty year old is anything but past it. As the veteran acts alongside the greatest, youngest talent around in Chloe Grace-Moretz (watch out Jennifer Lawrence), who gives a Jodie Foster, 'Taxi Driver' like betrayed innocence to her role, Washington shows he's still a capital talent. A man that can seemingly take what looks like B-movie fodder, straight to DVD release, Cuba Gooding Jnr territory movie ideas to an inspired mainstream. Making them look like classic, hallmark 90's thrillers we all miss. Just like last years comic-book, 'Bad Boys' fun partnering with Mark Wahlberg for the buddy, criminal cop '2 Guns' last year. A film that snuck into the Summer season of blockbusters like this one is doing between all the Marvel, monsters and falling leaves. Or the Hawaiian shirt peddling of the race against crime, cool caper 'Out Of Time'. Denzel has been doing this for years before 1990.
You've got to be who you are in this world, no matter what. Thankfully Denzel Hayes Washington is great. Truly. There's a certain likeability and integrity he brings to even the smallest moments in every film that tells you that this isn't just subtly, amazing acting, but this guy is actually one of the nicest people this industry could hope to ever have. You see it in the trailer of his new movie, helping a co-worker take her ring off at a robbers gun-point while gently reassuring her its O.K. Or admitting to John Travolta in 'The Taking Of Pelham 1, 2, 3' what he did with that money, again with the threat of someone else under the gun. Or his light hearted to deep soul conversations with Chris Pine in 'Unstoppable' as the late, great Tony Scott's twin train movies with D.W. couldn't be more different, dynamic and definitve. You can even see it in real life on T.V. shows where when the presenter tells him its great to have him he replies with a big smile and upmost genuineness, "my pleasure". Or when he presented an award with his daughter and when it was his turn to speak he fluffed his lines and graciously said with that familiar warmth, "see I'm messing up too". Denzel may even say it best in this new 'Equalizer' movie when Moretz asks him what his new book is about and he tells her its about a knight in shining armour, but one that lives in a world where knights don't exist anymore. This isn't just a metaphor for his character, this is a literal look at Denzel Washington's career. Even in what seems like a fake and fickle world of the Hollywood, entertainment industry, thank God for the genuine Denzel. A heaven sent career began with some theatre study and even some Fruit Of The Loom commercials. Remember Grapes? But the big break for this big actor came in a George Clooney 'E.R.' form when Denzel played a dishy young doctor in the medical drama 'St. Elsewhere' for many seasons. Its entire six year run in fact. Then after earning some T.V. movie credits Denzel met the recentely dearly departed Richard Attenborough and received a 'Best Supporting Actor' Academy Award nomination for the 'Gandhi' directors 'Cry Freedom'. If he wasn't a big star before then he was now, but a simple nomination wasn't enough. In 1989 one year before a decade him and Hanks would share in ownership he found 'Glory'.
"And the Oscar goes to Denzel Washington"! In supporting Morgan Freeman and a Matthew Broderick who looked to have taken his last day off in the 'Ferris Bueller' eighties, Denzel struck gold with 'Glory' in the same year he tackled race and war on a British front for the film 'For Queen and Country'. An incredible film throughout but his final flag carrying, agonisingly, tear strained moment may have sealed the Academy envelope whilst showing us all just how much simmering, pent up emotion this actor has locked up, ready to burst out over the next 25 years. It wouldn't be until 2001 where Denzel would win at the Academy again-despite nominations- where he's go one better winning the best actor award for his classic crooked cop in the terrific, dynamite 'Training Day', all whilst honouring almost every black actor that came before him in his acceptance speech. Even without the Daniel Day-Lewis trophy cabinet (there's where some of his Oscars went), Denzel's consistently relentless output has been a lifetime achievement since. His supporting nomination helped his fellow 90's defining and still today refining Tom Hanks win a 'Best Actor' Oscar for the landmark 'Philadelphia'. A complete classic that did previously ignored justice to victims of HIV in the bewildered wake of Los Angeles Lakers, basketball star Magic Johnson's announcement, years before last years brilliant Oscar dominating 'Dallas Buyers Club' did. Now today we'd love to see a reunion and spiritual sequel from the perfect pair and dynamic duo who will always share a brotherly love. Even before there was more at stake in Philly, the worlds best actor teamed up with one of its definitive directors for a couple of classics. Spike Lee's direction behind all the socially conscious lessons learned and earned is like a jazz piece and his 'Mo Better Blues' with Washington's trumpet playing soloist blew that up in more ways than one. If you thought this real and raw performance and picture was a classic then a couple years later came their take on 'Malcolm X'. A bold and beautiful biopic that remains one of Denzel's classically greatest, but still criminally underrated roles to this date...and you wonder why the nicest man in movies is not playing Martin Luther King and leaving it to the great impression of Jamie Foxx. Spike and Denzel's incredible, inspired and influential portrait of the great Malcolm X can be described in a few simple but poignant words, justice in a time of injustice. It sums up subject and matter and how the man himself and his film was received in more ways than one. Following this Lee and Washington reunited for 'He Got Game' with basketball hot shooter Ray Allen and soundtrack slam dunks Public Enemy in one of the game and its changers greatest scores in cinema. Spike's greatest commercial success came with Washington in their collective peak for the bank job with a safe door twist, 'Inside Man' that was inspired storytelling and filmmaking in all its sobering, not scene stealing twists and turns. Still neither had nothing on the mark made by X.
'The Pelican Brief', a classy legal thriller with Julia Roberts came next, before the submarine submerged, pressure filled, sinking drama of 'Crimson Tide' was a classic code that launched Washington to a new stratosphere, showing he could take the power from gnarly greats like Gene Hackman. Exuding an effervescent confidence that was anything but arrogant, Denzel proudly proclaimed he was here to stay. 'Much Ado Nothing', 'The Preachers Daughter' and the call of duty to a modern warfare of the classic 'Courage Under Fire' with Meg Ryan and Matt Damon showed more of the sensational same. Then Denzel-like Dylan sang-came in like a hurricane. Playing the brutually, wrongfully incarcerated boxer Rubin Carter for 'The Hurricane', Denzel should have been given his second Academy belt for this knockout, even though there was campaigning complaining to the Academy for those who didn't believe in Carter's innocence. Even more underrated then Will Smith's incredible portrait biopic of 'Ali' (and this writers still convinced Washington's Carter makes an inspired nod, ringside crowd cameo in that flick, just check the Frazier fight), when its all said and done this film will belong in the red corner of Denzel's heavyweight pictures. You can clearly see that from the behind the prison phone glass acting that is as heartbreaking as it is groundbreaking. Dialling through to the new millennium and Denzel kept it in the field of sports with a race issue theme for the inspired and beautiful game changing 'Remember The Titans'. With this and the first black basketball teams 'Glory Road' journey Disney showed they where more than just a Mickey Mouse franchise and one that was able to take the terrible and tough issues of racism and injustice and turn them into an inspirational story and message of equality. A right that belongs to everybody.
Then following his Oscar moment where he found himself next to the great Sidney Poitier as he showed he could go even badder than Tom Hanks in 'Road To Perdition', Denzel had a change of heart and pace after the medical emergency 'John Q'. Co-starring in Derek Luke's inspired turn as 'Antwone Fisher', Washington earned his first directing credit and he looked more than comfortable in the chair that read his surname for another unfairly overlooked film in his so epic its often taken for granted filmography. Still a testament to the fact that this man can direct, heres hoping we'll see him behind the camera a few more times, maybe even in a later career duality like Clint Eastwood who is shaping an even better legacy now than the legend he made himself before then. Still, Denzel's just so charismatic and classic in front of the camera that its hard to keep him off the screens. From the political punch of 'The Manchurian Candidate' to the repeated success with Scott for 'Deja Vu' and the explosive revenge for a young girl 'Man On Fire' that is even more of an 'Equalizer' precursor than 'Training Day'. Despite being a courtside Laker fan this man is more like the no nonsense, hard working, efficient output of the film equivalent of basketball great Tim Duncan, but for every regular win comes a championship too. Just like his portrayal of Frank Lucas for the godfather of mob classics 'American Gangster', that had far more heart and soul than those violent, so-called 'Goodfellas'. Then of course there's the emotionally grounding, under the influence 'Flight' that even shows Denzel can bring the sympathy and the Academy out of the human side of abhorrent and disgracefully, negligent behaviour, especially behind the controls of an aircraft in this disaster paranoia, day and age. How bold do you want it? From 'The Great Debators' conversation to 'The Devil In A Blue Dress' detection. A 'Mad Max', 'Book Of Eli' to an action packed powerful, anything but 'Safe House'. The superbly supernatural possessed, fantastic, fantasy 'Fallen' to the 'Rear-Window' testament of the body of 'The Bone Collector'. From every credit to every frame this Washington reaches new heights even today. This guy truly is 'Unstoppable'. You had enough yet? Because he can keep going. Brick for brick, dollar for dollar, film for film, legacy for legend. Right now there is no equal.