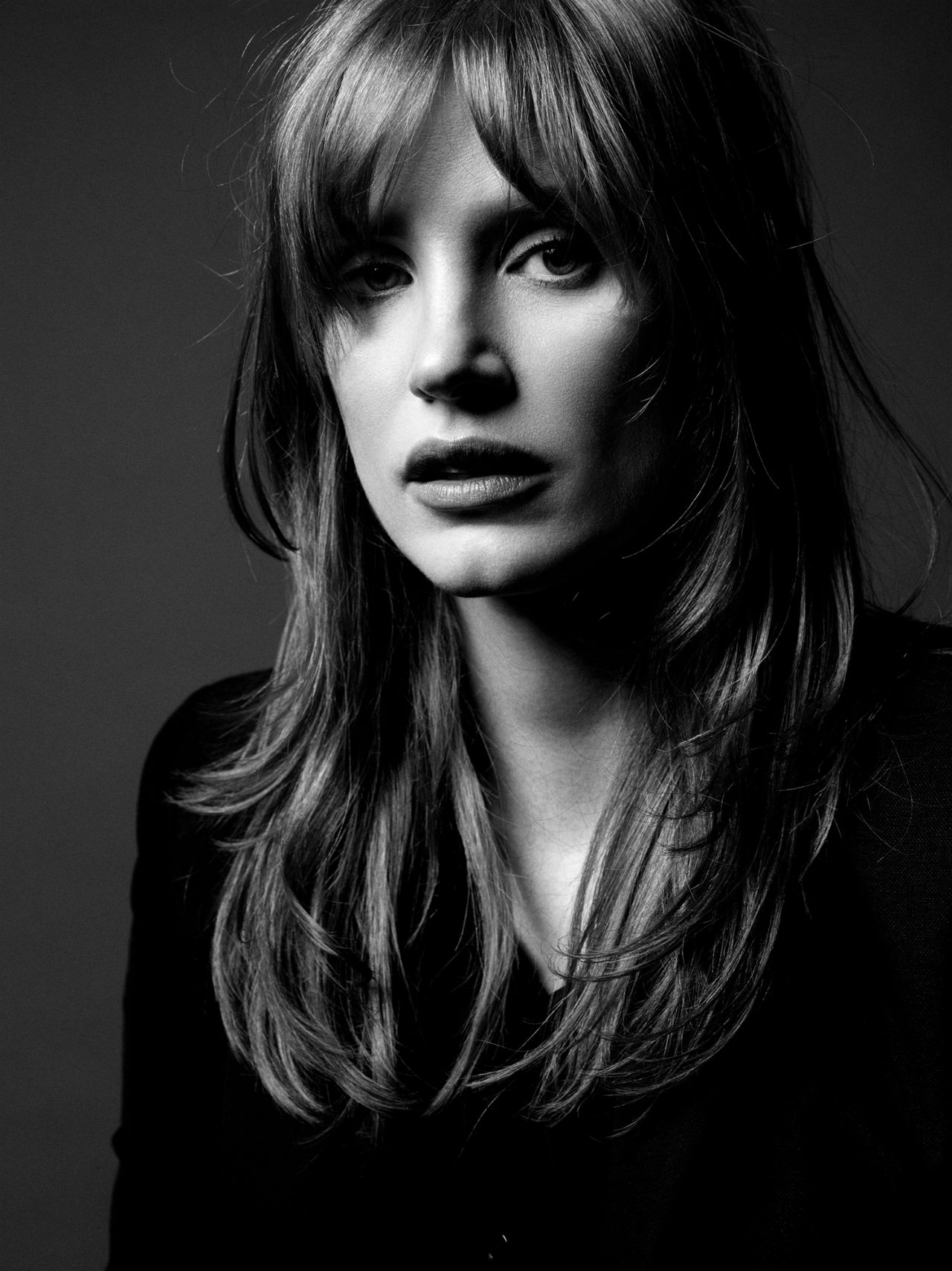 Twin Peaks.
By TIM DAVID HARVEY
Over and over Jessica Chastain keeps doing it again and again. Now I know what you're thinking. 'Male writer writes an article about one of Hollywood's hottest leading ladies, it's going to be all about how beautiful she is'. No...even if she is! Maybe you're thinking with the recent success this summer of one of 2015's biggest blockbusters 'Jurassic World' this is going to be some confused comparison piece to another hot red head actress at the top of her game Bryce Dallas Howard. What?! Are you kidding me? Are we really going to make those stupid statements over something like red hair? What have you never seen a strawberry blonde before? We're here talking about how Jessica Chastain is one of Hollywood's best actresses like fellow greats Cate Blanchet or Julianne Moore regardless of hairstyle (let alone one of the best actors, gender regardless in a seemingly still sexist entertainment industry). Whether she's acting whilst looking like she does off screen. Or going blonde on blonde for the legendary likes of her breakout 'The Help' or last falls formidable 'A Most Violent Year'. Or blacking out the red for the forthcoming gothic horror 'Crimson Peak' the tide of Chastain's talent lies in how she delivers her lines not her looks. And 2015 is looking to be her year over and over again like the last couple of calendars. With two more films in the next couple of months, whether you think this girl from Sacramento, California in a twin of Dallas or not, she's a Maverick actress looking to be queen at the peak of her career. Going for the throne again and again. Over and over.
Crimson and clover. Now how's this for a red dawn double? First we have Gullimero del Toro's horror 'Crimson Peak' alongside the Loki talents of British actor Tom Hiddleston who we wouldn't be surprised if he got confused with Benedict Cumberbatch as the classically trained actor is on his own meteoric rise of fan girl letters and filmography scripts. This film, too looks to be on the peculiarly perfect 'Pans Labyrinth' level of being something of legacy making legend for the twin, top-billing stars and Chastain looks chilling in 'Crimson' and a maroon, traditional dress to match. Then after the tide of 'Crimson' comes a trip to the red planet to rescue 'Martian' Matt Damon lost in space and stranded on mars for the latest Ridley Scott epic that is more blockbuster botany than big budget 'Alien'. One of falls early favourites looks like it could even ground the Oscar winning 'Gravity' in this new 'Apollo 13' age of year end more real world space dramas, coming after all the science and superhero fiction seemingly started by Sandra. If you think this looks a little familiar that's because it is. Jessica Chastain starred in an out of this world, trek across the universe stars that saw Matt Damon lost on another planet in the Christopher Nolan inspired 'Interstellar' (is it too late to be a spoiler warning?). Only this time instead of aging at a rapid Mackenzie Foy to retiring rate in what seems like mere evergreen McConaughey minutes, Chastain leads a mutinous rescue mission to bring the boy Damon back home. This has the makings of one of her most thrilling and action packed roles, coupling with the classic dramatic tension she also brought to the likes of 'Interstellar' where grounded on a dying earth she tried to save the planet whilst finding family such galaxies and time lines away, Mars looked like a next door neighbour.
Next to 'Interstellar', 'The Martian' has a whole wide universe to live up to, especially Jessica's performance of a young woman dealing with the emotions of having her father millions of miles away from the heart of home, if even alive. It was a moving performance not even on the same set as the rest of the top cast that put her right there with the top-billed Anne Hathaway and Matthew McConaughey. One emotional, tear evoking scene with McConaughey having the makings of something that could have even hit the viewer a little too close to home...and this was with Chastain's filmed side of this distorted by a grainy video screen...there's no Skype in space. Beyond the obvious use of dramatic effect, just imagine how powerful this picture would be if you could see the portrait perfectly? Now next to this if you thought Jessica Chastain's fall double header had a mountain of planetary peaks to live up to than you would be right. But due to what else Jess gave us last year for one of the movie industries most foremost leading ladies as she aims to be a Hollywood double-threat each year...and perhaps even season for one of the hardest working actresses in the industry today. Next to the acting equivalent of her star soaring stock Oscar Issac-who looked like the next Pacino or De Niro here-Chastain started in 'A Most Violent Year'. A most incredible movie that was so much more in meaning and intent than the usual guns and gore gangster films. The only thing really violent about it was its assault on a morally deficit world of money and murder...and it did this with Iceman ice-cold calculation. Armed with old-school money counting machines, a weekend with Marylin blonde bob, some of the most stylish outfits a woman could wear with class in the 80's and a vintage Lady Macbeth like performance, Chastain at 'Best' deserved a nomination like Oscar in an Academy robbed classic...I mean was this all irony with Issac's name? Award or not, the acclaim is critically clear, 'A Most Violent Year' is a most definite classic...and you don't need Bill and Ted to tell you how bogus everything else is.
All this from someone who is yet to be in this acting game for a full decade. Someone who was introduced to us in the 2008 film 'Jolene' about a character based on the Dolly Parton song after a television debut of real drama in the moving medical show 'E.R.' and some terrific theatre with Al Pacino on stage for 'Salome'. 'Jolene' did more than take Dolly's man, she served as a breakthrough role in more ways than one that saw Chastain win the Best Actress nod at the Seattle Film Festival as she made acting her new 9 to 5. Now still to this day she is proof positive to any aspiring actress looking past all the script stereotypes of age that its never too late to start and now the young woman is carving out quite the career that even someone as legendary as Meryl Streep would kill to have back in the day with the roles Chastain's reaped and sowed with success. This is all thanks to the help of films like 'The Help' that may have been the success story of the likes of Emma Stone, Viola Davis and Octavia Spencer, but also that of Jessica and a certain co-star, Bryce Dallas Howard in playing some harder characters to love. It's just the testament to how terrific an actress and her character development portrayal is when she can still draw appeal and acclaim under these circumstances of playing a kind, albeit naive character. Similar can be said for the likes of 'Zero Dark Thirty', not that there was anything wrong with Jessica's now iconic, award nominated character that was a real heroine between the desk and the battlefield in a modern day world that seems to only glorify female heroes if they are in fictional, skimpy tights. More like the controversy that surrounded America's manhunt of Osama Bin Laden following the terrorist attacks of 9/11. Although such controversy goes to battle with any war. Besides we'll leave the politics to that arena. Everybody who showed up at 12:30 for this movie did an honourable and dutiful job, but none as commendation worthy as Jessica who gave us a driven, exhaustive, relentless, emotionally drained and duty over hope reinvigorated characterization of an unsung heroine. You could tell from every time she wrote the number of days on the glass window if her superior in thumped marker, quite simply behind "her confidence" of black suit jacket and shades, she wasn't f###### around!
Check the content of the rest of this actresses work and you can see the same expletive is explicitly true here. From hit horrors like 'Mama' and scene-stealing, going for broke to 'The Debt'. We haven't even begun to scratch the surface of the two time Academy Award nominees , 'And The Winner Is...' future. From Hemsworth's 'The Huntsman' sequel (after scheming with Loki its time for some Thor) to 'Snow White' and 'The Zookeepers Wife'. Not to mention whatever else is on the cards for someone the testament to the Time Magazine naming as one of the worlds '100 Most Influential People'. If Brad Pitt really is set to play legendary American Dream rock icon Bruce Springsteen one day, then we have just the lady to play the bosses wife Patty as they take residence on E Street...and no we don't mean because of the hair. And not just because of Chastain being pitted against husband Brad in 'The Tree Of Life' either. Although the inner conflict of characters was offset by an outstanding outside looking glass of beauty in all this world and times beauty that made this Terrence Malick classic his most mesmerising. More than the vivid visual however, Jessica Chastain should have been "the winner is" for best actress Oscar...and not a supporting nod either. This was just as much her picture as the brilliant Brad or even the whole cinematic canvas. After this wonderful moment in movies we can't even guess why her reunited work in Malick's 'To The Wonder' was cut, although sometimes it just works like that. More worthy acclaim has come from the support of Michael Shannon in 'Take Shelter' or the diverse, versatility of acting in the 'Texas Killing Fields' not to mention more song character inspired musings in 'The Disappearance Of Eleanor Rigby' which would even make Beatle legend John Lennon proud. And lets not forget one of 2012's underrated and best 'Lawless' where Jessica took no prisoners as a strong female character of stand by her man solidarity. Neither should we forget that the woman who recently narrated 'Unity' has also lent her voice to star in 'Madagascar'. The world really is hers for this actress still with all being said an underrated quality, not to mention versatility. An actress who has worked with directors like Scott, Malick, Del Toro, Nolan and Bigelow and leading men actors like Pitt, McConaughey, Damon, Pratt, Isaac, Hardy, Hemsworth and Hiddleston. With so much already done in such little time and so much more to come, 'Crimson's' Chastain is still a Mars distance away from her peak. But when we finally see it in all its glory it's going to be something beautiful. And for anyone confusing her talent in that moment, for them, it'll all be over!