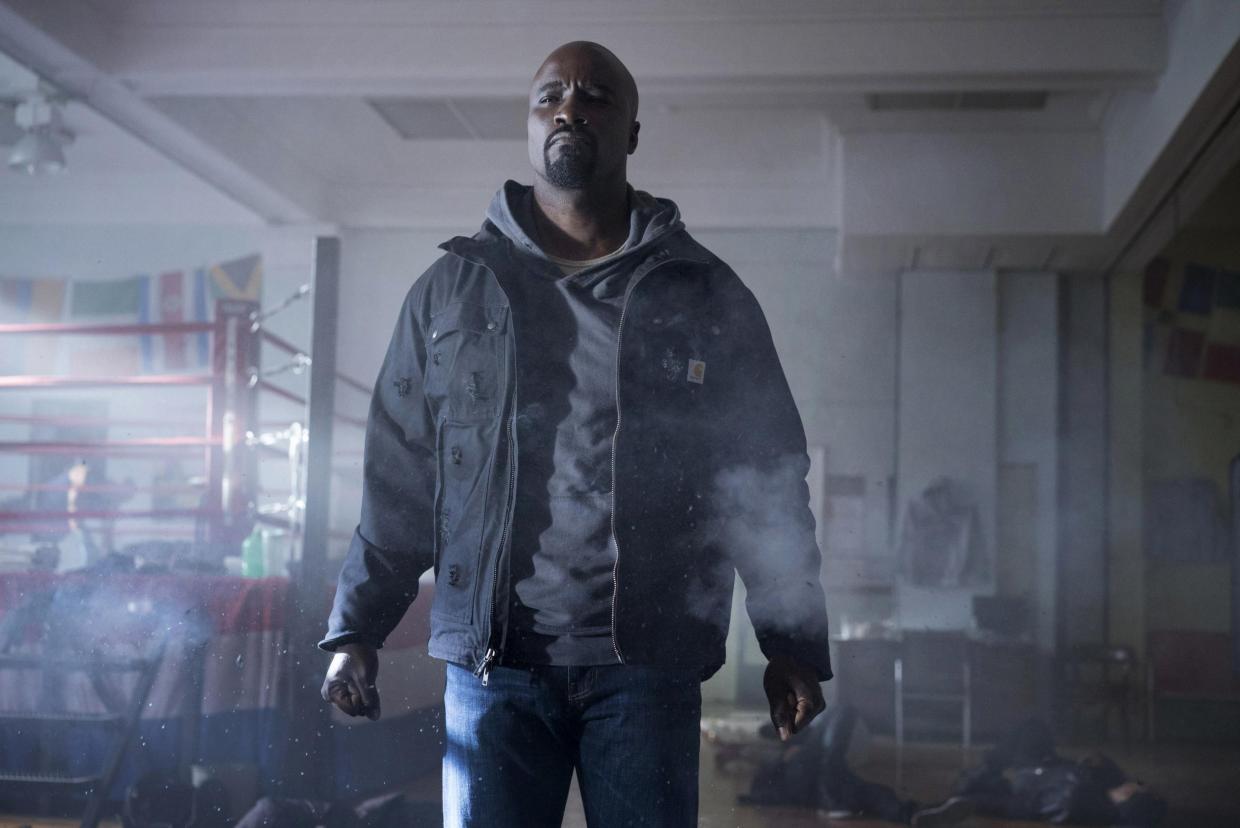 4/5
Power Back.
13 Episodes. Starring: Mike Colter, Mahershala Ali, Simone Missick, Theo Rossi, Erik LaRey Harvey, Frank Whaley, Frankie Faison, Rosario Dawson & Alfre Woodard. Creator: Cheo Hodari Coker.
Uncaged and off the chain like 'Django', it's time to power up for the people because Hero For Hire, 'Luke Cage' is here. Following Marvel and Netflix's team-up and visionary 'Daredevil' debut (not to mention the perfect punishment of it's stellar, second sophomore season to begin this year), 'Jessica Jones'' alias turned up the heat in Hells Kitchen, also whilst cooking up Marvel's next new Netflix series as she shared her private investigations and screen time with the Power Man with unbreakable skin himself. Now before another fellow Hero For Hire shows us the ways of his 'Iron Fist' next year, Marvel hand the ropes to their Hulk knockout strong Cage. Matched up with a harem of Harlem gangsters before the 'Defenders' look to assemble for an ensemble show come 2017, taking back the city of New York with avengance like what's being dubbed here as "the incident". In an amazing age of 'Civil War' which we hopes leads this Subway linked network of heroes and anything but sub-team to 'Infinity'. Going fourth when you thought this was all a phase. Yet it was quite simply 'Captain America' and the rest of The Avengers biggest and best year...even if they couldn't get it all together. And to think we're still yet to head to Dylan's Greenwich Village in N.Y.C. to pay a visit to Benedict Cumberbatch's 'Dr. Strange' this fall. And you thought 'Stranger Things' were already happening on Netflix. Well...time to chill because this is the new 'Get Down'. Before you get ready for 'Westworld' binge on this. The 'Suicide Squad' gallery like rise of the villains of 'Gotham' don't even stand a chance against these reluctant heroes gone rogue.
Sweet Christmas has come early. After Marvel's first ever black superhero 'The Black Panther' got his excitedly anticipated big-screen debut this year, their African American one takes a blaxploitated rap score with jazzy Jessica Jones like overtones from Adriane Yonge (the prolific producer who gave Ghostface Killah '12 Reasons To Die'...twice!) and A Tribe Called Quest's Al Shaheed Muhammed. With 'Hard To Earn' episode titles all named after legendary Gang Starr records to become the Hip-Hop variant like those classic covers remade iconically with legendary heroes from Public Enemy and Terminator X to Professor Xavier and the X-Men. Aaaand classic cameos (like the Netflix recurring Stan Lee one in print) from Wu-Tang Clan member Method Man (can we get a 'Tical' variant now?), but no original 'Ghost Rider' himself Nicolas Cage (whose given his way to the new incindiary incarnation of the hellraiser of 'Agents Of SHIELD' season 3) who changed his name from Coppola thanks to the Power Man and a musical performance piece one from Shaheed Muhammed's Lucy Pearl member Raphael Saadiq of Tony Toni Tone! What more could you expect from show creator Cheo Hodari Coker who broke into the game writing for rap and basketball bibles 'The Source' and 'SLAM' (look for their own east excerpt) before the likes of 'Ray Donovan' and 'Southland'? And the 'Notorious' screenwriter (joined by writers of BBC's classic and legendary detectives 'Luther' and 'Sherlock') who makes inspired iconic use of a famous Biggie crowning portrait picture frame knows how to symbolise too. From the Martin Luther King Jr, and Malcolm X named street sign, shadow title sequence to turning Harlem's world from the classic theatres to its renaissance into a character itself here. Just like Coker's subtle Easter Egg use of Luke's steel tiara and canary yellow Power Man classic comic origins. From the mustard linings of his Carhart, to the nights streetlight glow reflecting off his white tee. And then there's the tank and washing line, not so subtle egg on your nose. Sweet Easter! Either way homage to the source like Harlem is paid in full.
Don't sweat the technique though, the immortal Cage is played with locked down acting by the massive Mike Colter. The man has muscles like rappers have bars and the soldier who we first saw breaking our hearts in that unexpected end to 'Men In Black 3' breaks rib-cages and other bones here as Luke Cage, without so much as a scratch on himself to show for it. The indestructible Luke can withstand any colt or 45 as Colter only has to worry about his clothes getting hit. Knocking everyone out like mama said back, with a right cross that hits like a big green rage monster thunderclap. Punching him on the other broken hand is like Deadpool suckering Colossus. Funny, forthright and a formidable force for any foe, you don't want to F with Harlem's finest. Law breaker or maker. As the bulletproof black man in a hoodie has something to reveal for anyone who thinks those lives don't matter. And don't you dare use the 'N' word either. Because this man and show has so much more to say than that. You want some? Bring it on! Because you don't have enough people. The only one willing to go to war and challenge Luke to a Cage match is the great Ali. Mahershala Ali, whose Cornell Stokes gangster is a Kingpin like character all the way to that Cottonmouth name...whoops I shouldn't have said that. And that laugh! Ali of 'Hunger Games' fame, who recently broke the bonds of Matthew McConaughey's 'Free State Of Jones'' bee stinging villain may just be the suited and booted best thing about this series. Bringing more death from the New York rooftops above then the Punisher. All being sent down and marched to the funeral tones of his outstanding organ playing. But he's not the only big bad. 'Boardwalk Empire' gangster Erik LaRey Harvey shines with blaxploitation roots as the comic classic Diamondback who he actually looks like. Whilst Theo Rossi's Shades hides more deception behind those Ray Charles covered eyes. Not to mention great actress Alfre Woodard's political power that seems to be hiding more behind the scenes corruption than the 'Civil War' movie she crossover cameo'd in. As a matter of fact in this Harlem homecoming series that shows white male Hollywood that Marvel doesn't have to play that way its the women who stand the tallest. From Rosario Dawson's recurring, nursing character that links all the Defenders and their series' together with so much more screen-time and substance here, to Simone Missick's Misty 'Mercedes' Knight cop character looking confidence cocked and law-abiding loaded for the 'NCIS: Los Angeles' types Coker used to write for inbetween articles for the L.A. Times. It won't be long before this detective cops her own lead 'Blindspot' like series role, don't look any other way. Or an WNBA roster spot....you'll see. As a matter of fact this whole cast of characters is instantly fond and memorable, wanting for more to be Frank. From Frank Whaley, who when he was younger thought Marcellus Wallace looked like a b#### (apparantly) in 'Pulp Fiction', to legend Frankie Faison as your favourite barber Pops. A cut above the rest so good if we described how much so we'd have to put another dollar in his swear jar. As a matter of fact as this show starts with some barber shop talk on Basketball and the New York Knicks we knew we were going to love it all the way to it's core. Now it's time for this Harlem king to run a power move and take it to the hells heart of New York City for the defense of the Big Apple. Besides he's the only one that could take everything...including the kitchen sink. The devil just got some muscle. Cage tight! TIM DAVID HARVEY.