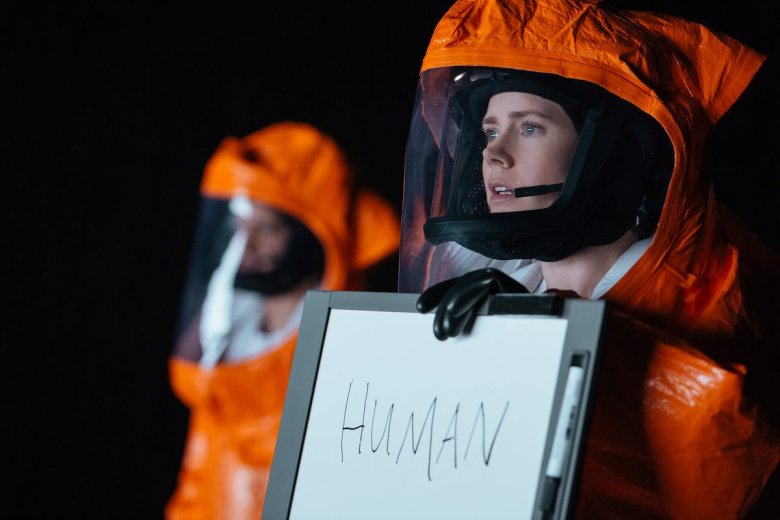 4/5
Signs.
116 Minutes. Starring: Amy Adams, Jeremy Renner, Michael Stuhlbarg, Tzi Ma & Forest Whitaker. Director: Denis Villeneuve.
Between Brexit and Trump and the deaths of Prince and Ali...not to mention the great Ziggy Stardust, David Bowie, you'd be forgiven for wanting to leave this world on a rocket ship for a life on Mars like Matt Damon farming his own poop potatoes. But here's another big blockbuster movie about aliens inhabiting planet earth in between all your Summer and fall 'Star Trek's' and 'Star Wars' coming right back at you. But it's going to take a mild-mannered French Canadian from a place everyone in the now not so United States wants to leap the wall for to show this is not just another Hollywood 'Independence Day-Resurgence' sequel regurgitation popping like corn for salty mouths in need of something a little sweeter. Something that could possibly vividly outsmart the out of the war of this world, latter year, modern day future greats of 'Gravity' and 'The Martian' on an 'Interstellar' level. Not to mention the other sci-fi's in this endless game of future fables, like Ryan Reynolds and Jake Gyllenhaal's 'Life' (not to be confused with Robert Pattinson and Dane DeHaan's (look for his elemental vivid 'Valerian' trailer with 'Suicide Squad's model actress Cara Delevigne today) James Dean picture. Or Eddie Murphy and Martin Lawrence's classic, buddy cell block comedy). And it's going to take something from last years best picture 'Sicario' director Denis Villeneuve who also gave us the Gyllenhaal arresting 'Prisoners' and doppleganger friend or foe 'Enemy' double act. Something that would make the 'Elysium' of modern day science fiction and real world reflective fact director Neil Blomkamp about to reboot 'Aliens' proud, before Villeneuve races forward with Harrison Ford, Ryan Gosling and Jared Leto's android for the 'Blade Runner 2045' sequel himself. Not to mention the authoring forefather of all science-fiction storytelling and prophercies from the aformentioned 'Do Androids Dream Of Electric Sheep' and all the 'Total Recall's' after Phillip K. Dick. Remember this one, before it goes wholesale.
Arriving on screens just in time before the 'Star Wars' story hype goes rogue, this awkening force from Villeneuve is more than his 'Blade Runner' audition turned warm up. Hotter than anything else out there right now, from all Affleck accounts to Dr. Cumberbatch's strange tales. Odder things can be found here. Call it, 2016: A Space Oddity. This spaceship not in all realms so tall tale based on Ted Chiang's sensational short 'Story Of Your Life' circles around ideas of life, love and the eternal flat-circle of time going interstellar with what's really out there in a galaxy far, far away. With cerebal matters, heart beats and searches of the soul looking at the circumference of our own lives and the mistakes we make over and again on a 'Looper' real. This also has real world implications for our divided nations. Especially now, how if we don't come together for our own peace we are pulling the trigger, or pushing the big red button on our own destruction. Nuclear or insular. And if we don't see the signs and hidden meanings here. We're all f#####...excuse me..."Trumped"! But this is more than political, it's personal too. Because everything starts from what we have within. And if we want to be the heroes of our own or other stories than we have to stop being our own worst enemies. And Villeneuve reaching back to his enigmatic, envoking 'Enemy' mirror image with Gyllenhaal and some of its creeping and crawling spider themes gives us another vivid picture and character portrayal that will leave us with as as many questions as it answers and leaves open come credits curtain. More than just open to your own and others interpretations (such is the nature and order of our tree of life), you'll be talking, thinking and tweaking this essential rewatchable one in your own mind for months, finding new meaning upon hidden one. One thing that won't be up for debate is just how good this is. This belongs in the same solar system as the greats from the first time you saw 'Contact' to Sam Rockwell on the 'Moon'. Today, the day the science-fiction world stood still.
No stranger to Jake, starring alongside Gyllenhaal in fashions Tom Ford's grand directorial design 'Nocturnal Animals' the next screen across, Amy Adams is having quite the week. Not to mention the year for Lois Lane, scooping all the big pictures and headlines if you forget what critics said about 'Batman v Superman' and just see how great the 'Dawn Of Justice' really is. The 'Big Eyes' Academy nominated actress may just be looking at her next Oscar award. The enchanting star on her 'American Hustle' really is a fighter...just ask Batman (no not Affleck, but Christian Bale), about Supermans lover. Alongside a Chastain or Blanchett, her mastered craft really is art. As she communicates non-verbally with some Octopus looking creatures squirting silent inkwells up for interpretation like pychologists asking you to tell them what you see, her mind brutually blotted by mourning no mother should wake up with, Adams translates so much more without words. There's more to life than what you say and they told you this amazing Amy had big eyes. In her lingustic corner with the science concentration bit is Hawkeye himself Jeremy Renner, shooting straight on a film that isn't his lead, but his stellar support. Just like the Avenging franchise background face of 'Mission Impossible' and 'Bourne' does best, he plays the corners, but very much outside the box. That's why he and his army of 'Hurt Locker' talents made it from a warzone to the Oscars. Just like Academy accredited, always brilliant Forest Whitaker playing a colonel with military precision of conviction, before we see him rebel in the next months 'Star Wars-Rogue One' alliance. His scraggily hair and beard there dome shaved here as he heads a cohesive cast featuring Michael Stuhlbarg who has been on Joaquin Phoenix's periphery for awhile and Chinese legend Tzi Ma who seems to have been around forever...and we really hope he always will be. All in all the next (if not right now) directing great Villeneuve gives us a picture just as great as his fellow one word big-three of 'Prisoners', 'Sicario' and the oft-overlooked 'Enemy'. And it's a classic from the first vivid window frame look of the never ending ocean to the finger and lip trembling instrumental of Dinah Washington's 'This Bitter Earth', that still haunts your tears like a thousand violins from the time Leonardo DiCaprio wept to it on his brutually best 'Shutter Island'. All the atmospheric way to the first iconic look of the vertical half-sphere shells of these space craft bringing a spine-tingling new look to the gravity of this genre. For once not Hollywood hovering over all the worlds most famous landmarks, like they'd know...what's wrong with Deleware? Played in by the sinister 'Sicario' Oscar nominated score keeper, Johann Johannson, reuniting with Villeneuve here to give us a harrowingly scary, sonar introduction to these extra terrestrials that really are so much more. The behind the smoke screen prison glass first viewfinder tunnel vision of these other-worldly beings, as anxiety inducing as the twisting plastic of the hazmat suits will lift you off your feet like a whole new type of zero G's. From 'Metropolis' to '2001: A Space Odyssey' when it comes to the greatest science-fiction movies of all-time, this 'Arrival' is here to stay. Now
that's
what I call a close encounter!
TIM DAVID HARVEY.