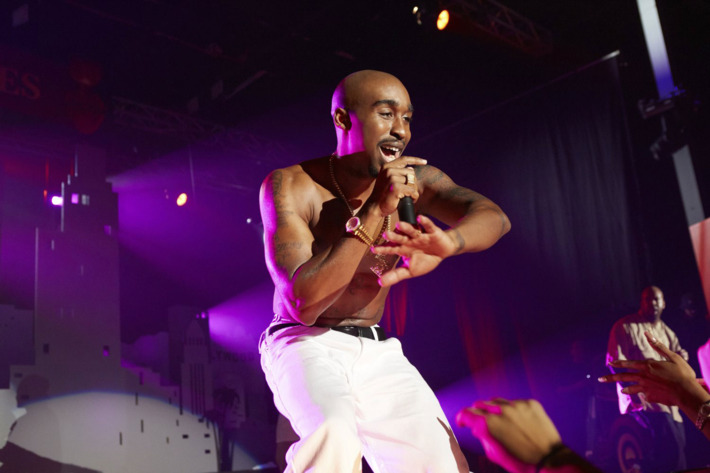 3/5
He Against The World.
140 Mins. Starring: Demetrius Shipp Jr., Kat Graham, Lauren Cohan, Hill Harper, Cory Hardrict, Jamal Woolard, & Danai Gurira. Director: Benny Boom.
What do you know about Pac's life? Well according to this not much, as everybody needs to chill. All piercing pupils are on this biopic of the late, legendary, legacy making rapper Tupac Shakur, 'All Eyez On Me'. 2Pac renowned as the greatest rapper of all-time. At least the most important and poetic with his meaningful messages that still transcend the tests of time today. Two decades of influence since his still unsolved homicide on the Las Vegas strip of all places. Critics are calling this bio a Wikipedia run through. Close friend of Tupac, Jada Pinkett Smith is calling this cinematic story out on Twitter as not "standing as truth" to her "precious" relationship with Pac, adding that the reimagining is "deeply hurtful" despite beautiful performances from the spirited leads. And although 'All Eyez' looks at everything on him, this visonary groundbreaking genius deserves more focus on him in this movie from legendary, sought after rap music video director Benny Boom. Ever since the loose biographies before them of the respective Eminem and 50 Cent starred '8 Mile' (inspired) and 'Get Rich Or Die Trying' (not so much) there has been a new trend of films about some of raps most notorious figures. Especially since two Cali summers back when the N.W.A. movie came 'Straight Outta Compton' like a crazy mother named Ice Cube.
"Caaaalifoooorniaaa loooooove"! The minute that iconic Zapp vocoder comes into play you know it's on. And the second that Los Angeles to Oakland anthem came straight onto 'Compton' you knew you were about to see something special on Death Row. And right then when you saw him in a haze of smoke in Dr. Dre's recording booth you almost thought it was him. The man himself. Tupac Shakur. That's just how much concrete convincing young actor Marcc Rose was the spitting image of Pac as he spit bars in the vocal booth. And 'All Eyez On Me' has done it again. Bringing a man that looks so much like Tupac too you would think it was the same actor from 'Compton'. We knew Pac got around but this is crazy. It almost gives more creedence of belief to those conspiracy, 'Elvis aint dead' like rumors of Makaveli's demise and Christ like figure return. But talent of the future Demetrius Shipp Jr. was a lot closer ro Shakur than you think. His pops senior worked with 2Pac A.K.A. Makaveli on 'The Seven Day Theory's' 'Toss It Up', so you have to give it up. More so and much respect for the fact that Junior embodies a full grown Pac body and soul. Striking right to the heartz of man with this ghetto gospel even if this movie is more a posthumous Pac put together record, than a real life '2Pacalypse Now' classic. Shipp helps this weighed down light, sinking one set sail. Inking his knowledge of Shakur and self as an a tor capturing his subject all the way down to the inked veins of his 'Thug Life' ("The.Hate.You.Give.Little.Infants.F###s.Everybody") tats. From the shaved dome to the nose bling, Demetrius doesn't just look like 2Pac, in this movie he is 2Pac. From the bouncing stage presence to the iconic voice that sounds more fondly familiar the more animated it gets. Some album and picture recreations like the last shot on the strip are so eerily uncanny it's as weird as it is some kind of wonderful. So much so you almost want to scream a warning at the screen as Shipp changes from his orange Vegas casino shirt to a stripped down, bottle green, Nike Basketball vest. Demetrius doesn't just outfit the clothes though...he makes the man. More than a fan. And that's the sign of a timeless actor. A star is born from one that will never die.
All eyes are on the rest of the cast too. Especially two blood bonded 'Vampire Diaries' actresses adding to Pac's book of life and rhymes. Lauren Cohan collaborates as the young actor and poets mentor, but it is Kat Graham who shines as Jada Pinkett, Pac's young teenage love and friend. Even the jaded by this picture, real actress knows Kat gave it her all and appreciates that. Like we all should the woman behind the man, baring so much soul from the rapper. Meanwhile 'Concussion' actor and author Hill Harper gets into the penitentiary and attempts to get into the imprisoned mind of a locked down Pac as a magazine journalist who fancies his warbrobe like civil rights leader Malcom X. Offering Pac truth to power and reason to his rhymes. Serving as unoffical narrator to this picture portrait quite perfectly. Whilst Cory Hardrict puncuates his play as a substance and significance aggravated man, who has been threatening to bite peoples noses off since 'Gran Torino'. And although from Shipp lookalike Rose, to Corey Hawkins' Dre and LaKeith Stanfield's stunning Snoop alike (here filled in by someone who either sounds exactly like the Dogg, or is lip syncing as much as the raps here to a guest spot from the Doggfather rapper) there are no actors brought in from 'Straight Outta Compton', 'Notorious' actor Jamal Woolard A.K.A. rapper Gravy has the juice reprising his role as Biggie. And he really is Notorious as B.I.G. going from playing alongside a cameoing, Marvel Avenging Falcon Anthony Mackie (who has played 2Pac twice on broadway and in some ways deserves his moment to own it) to playing the background with his larger than life figure perfectly. But if Oscar is watching anyone it will be 'The Walking Dead' actress Danai Gurira as the dearly departed 'Dear Mama' of Tupac, Afeni Shakur. Almost Academy worthy, if not for a lack of more screen time or a better script as she shows unconditional love and the pride that comes from real and raw panther power. Can U C? From 'The Rose That Grew From Concrete' poetic beginnings to all the artistic justice that bloomed since, Benny lowers the boom on it all. The 'Juice' of movies with Janet Jackson or ones that went 'Above The Rim'. The Digital Underground start up to the Death Row empire that saw him double up and release album after album that would carry on seven sealed times over and counting since his tragic death. It's all here, but despite a definitive Demetrius there's still something missing here like in rap itself today. Some may that that's a better movie, but really it's the man himself. Because after all no matter how hard you try you can never imitate what's truly real. The life of an outlaw who against all odds lives and dies in L.A. until the end of time. Open your eyez.
TIM DAVID HARVEY.
See This If You Liked: 'Straight Outta Compton', 'Notorious', 'Juice'.