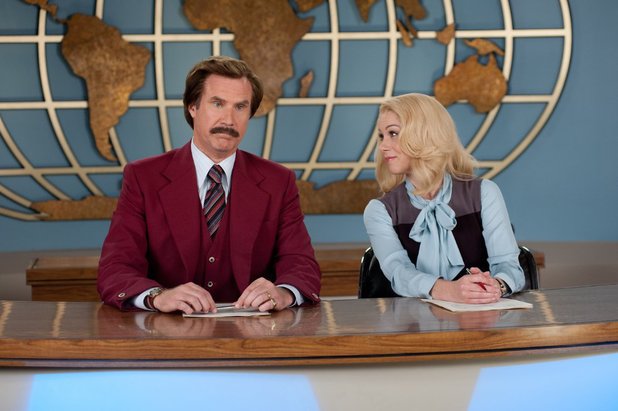 3.5/5
Still C.L.A.S.S.Y
.
119 Minutes. Starring: Will Ferrell, Steve Carell, Paul Rudd, David Koechner, Christina Applegate, Kristen Wiig, James Marsden & Harrison Ford. Director: Adam McKay.
This is more than just kind of a big deal. Finally, the one comedy sequel that everybody has been waiting for is here in between all those '
Hangovers
' and
'Police Academy'
sequels (what is it now? 72?). Almost a decade after the DVD dominance of '
Anchorman-The Legend Of Ron Burgundy
' became THE new cult, classic comedy of this generations age the news team is back! Names you may be fondly familiar with. Names like, Ron, Champ, Fantana and Brick, otherwise known as Will, David, Paul and Steve. Regular Joe names, but irregular perfect personalities. The first '
Anchorman
' movie became an overnight Friday night film night success even if the movie performed like a cannonball in mainstream cinema, pushing leather bound books off the shelf and always going down smoothly like scotch. It had fights with bears, 'Brat Pack' stars, hair products, cologne and pleats and it still played perfectly like a jazz flute. Everyone was on the classiest thing cinema had seen since Cary Grant and Clark Gable and by the beard of Zeus was it funny. It spawned an inspired bonus movie '
Wake Up Ron Burgundy: The Lost Movie
' and even a tell all memoir this year with Ron Burgundy's awesome "autobiography",
'Let Me Off At The Top-My Classy Life & Other Musings'
. Ferrell's feral comedy career spread like wildfire after that, to NASCAR (
'Talladega Nights-The Ballad Of Ricky Bobby'
), ice-skating (
'Blades Of Glory'
), Basketball (
'Semi-Pro
'), some '
Step Brothers', 'Other Guys'
and even more gag reels. Between filling and filing the box sets and seasons of the American version of '
The Office'
and the minions and minions of
'Despicable Me',
to go along with
some of the best romantic comedies of the past 10 years (Paul Rudd..
.'I Love You Man
'), the rest of the Channel 4 news team haven't done bad either....WHAAAAAAMY! Still, the fans want more and more than just Scotch flavored
'Ben & Jerry's
(to enjoy with your film of course...now wheres that cash check cows), Lego pieces with unmistakable mustaches, Dodge Durango commercials funnier than '
Big Red
' and more promotion for
'Burgundy Wednesday'
that you could throw an orange at. That's right the news team is assembling with avengance for '
Anchorman 2
' as '
The Legend Continues
'.
Fans fear not too, when there's a Will, there's a funny and between the epic facial expressions and drum and symbol striking one-liners, the king of comedy is back with his Chaplin character. Ron Burgundy is still the balls...simply put. Stepping back into the off-maroon blazer and mustache like the seventies or Movember wasn't yesterday everybody needs to come see how good this still looks. What more could you expect from the man who discovered the wheel and had his dog eat a whole cheese worth of it. The legacy of this legend truly continues as classy and comedic classic as ever. What more can this man do after building the Eiffel tower out of metal and brawn? Well how about overcome worse disabilities than sticking a knife in his leg in
'Talladega Nights
' or raising animals more scary than pregnant pandas out the deep blue? All in-between breaking down the barriers of race and offending just about everybody either side, outside of America from Mexico to Canada even getting some hockey stick..."sorry". Even with a marriage to maintain and a little Burgundy to raise this man still has the news to read off the teleprompter, without a question mark. Here he sensationally and satirically explores the world of 24 hour news and if anything from his recent moonlighting at various sports channels around the clock can prove...he's still got it like salon quality hair. Last time I looked in the dictionary, comedy was defined by R.O.N. in all caps. Still if hes going to do this he's going to need his news-team by his side and from the looks of comedy rom-com leading man Paul Rudd as Brian Fantana and the cowboy hat, stetson swings of David Koechner's Champ Kind this team knock it out the park. Especially with the sweet Brick who is on stupidly hilarious form by the good heaven almighty talents of Steve Carrell. This time finding himself in-between a brick and a hard place of love alongside
'Bridesmaid'
Kristen Wiig, who is the latest
'Saturday Night
' star to go truly live with an even better year than her last couple. Just wait for Boxing Day, this funny lady is the closest thing to the kings of Ferrell and Carrell even if you don't think woman belong in than newsroom. She'll rev your belly-laugh engines.
There's more on air behind the camera than this however and that is a scientific fact as sitting in the directors chair Adam McKay brings it all together for a perfect broadcast. From favorites like Ed Harken to new faces of familiarity like Greg Kinnear and Megan Good. Matter of fact there are more classic cameos in this film then you'd want us to spoil for this fight night. Now can we just get a classic Vince Vaughn laugh? Please Dorothy Mantooth...be a saint. With all this primetime talent you'd think that'd be enough for the ratings, but we also have Indiana Jones and Han Solo, as Harrison Ford gives us a double scotch classy turn. While of course Christina Applegate is back to anchor the news and Ron's heart. If that wasn't enough for the strings or rib-tickling, James Marsden continues his recent hot streak (see Cyclops' blazing
'2 Guns'
, or his Kennedy turn in
'The Butler'
) with one of his funniest and best performances. Even Kanye West gets to be in his favorite movie and as for the soundtrack it's as epic and eighties as Ron's barber. From the whales vagina of San Diego to the big apple of New York this news-team takes top-billing over this classic cast as they try to make it best in the big city. Some jokes may fall flat here but what do you expect after all the years of eager anticipation and high hyped expectations? Other jokes will blow up the room like the fire in Ron's eyes when you tell him he has bad hair and from old favorites like the tricks of loyal dog Baxter to the trade of Fantana's 'grooming' essentials these gags will never cease to amaze you. There's
'Blades Of Glory'
skating to the sound of jazz and Basketball jokes that are anything but '
Semi-Pro'
with these all-stars
.
To go along with the quality news reporting we've expected from these stand up fellows. From cute animal clips that could shut down Vines to the
'World Wildest Police Chases
' that could turn Sheriff John Bunnell's hair back to black. 'These critics thought they could make a home on tearing comedy sequels down...little did they know they'd be spending the rest of their time going back to whore island.'
Sure at times the comedy reverts back to the formula of it's old cliche, but not yet '
Hangover
' tired and it's the sort of fond favoritism the cult fans want from the original classic. Besides if it 'aint broke, don't fix the teleprompter. If you don't think sequels like this work tell it to
'The Naked Gun', 'Wayne's World'
or your DVD player for the next few years. The first film will always be the one, true classic but this second egg is no chicken...or turkey just shy of thanksgiving. Just before Christmas your buddy '
Elf
' is back to give the fans what they want, the best present wrapped in a big Burgundy bow. Smiling and laughing's your favorite right? Will we see a trilogy Mr. Ferrell? Popular consensus and money marketing will probably say "cha-ching, yes", but right now this comedy anchor Godfather is pulling all the strings and dusting the feathers across our rib-cages. Sewn together between set-up set pieces to the classic character comedy that is this reporters calling card this film will leave you in stitches...even if you do have some time to recover from the pain and tears in-between. With all the 'and rest' moments here you'll have time to write down the new, classic quotes for your news feed conversations while anticipating the laughs, camera, action that will come later. Leaving fans with more glee than those kids that sing in-between class and break-ups there's even a 'best friend' ode better than Doug's song bound to give you some '
Afternoon Delight
'. Comedy sky-rockets in flight, this is still the date night movie that will leave you rolling around afterwards when in Rome. Just don't take most of this seriously...it's supposed to be silly even if a little heartfelt and honest. From trying to understand Australian to translating some seriously sublime satire comedy in the newsroom hasn't been this funny and formulating since Jon Stewart gave
'The Daily Show
' its most perfect press. This isn't CNN...this is comedy network nostalgia that still keeps it classy. Other sequel comedies need to do their research and would do good to take notes of this journalists jovial jokes. Good news, Ron Burgundy is still number one. Now don't act like you're not impressed. Am I right? Saaaay whaaaaaat?!
TIM DAVID HARVEY.