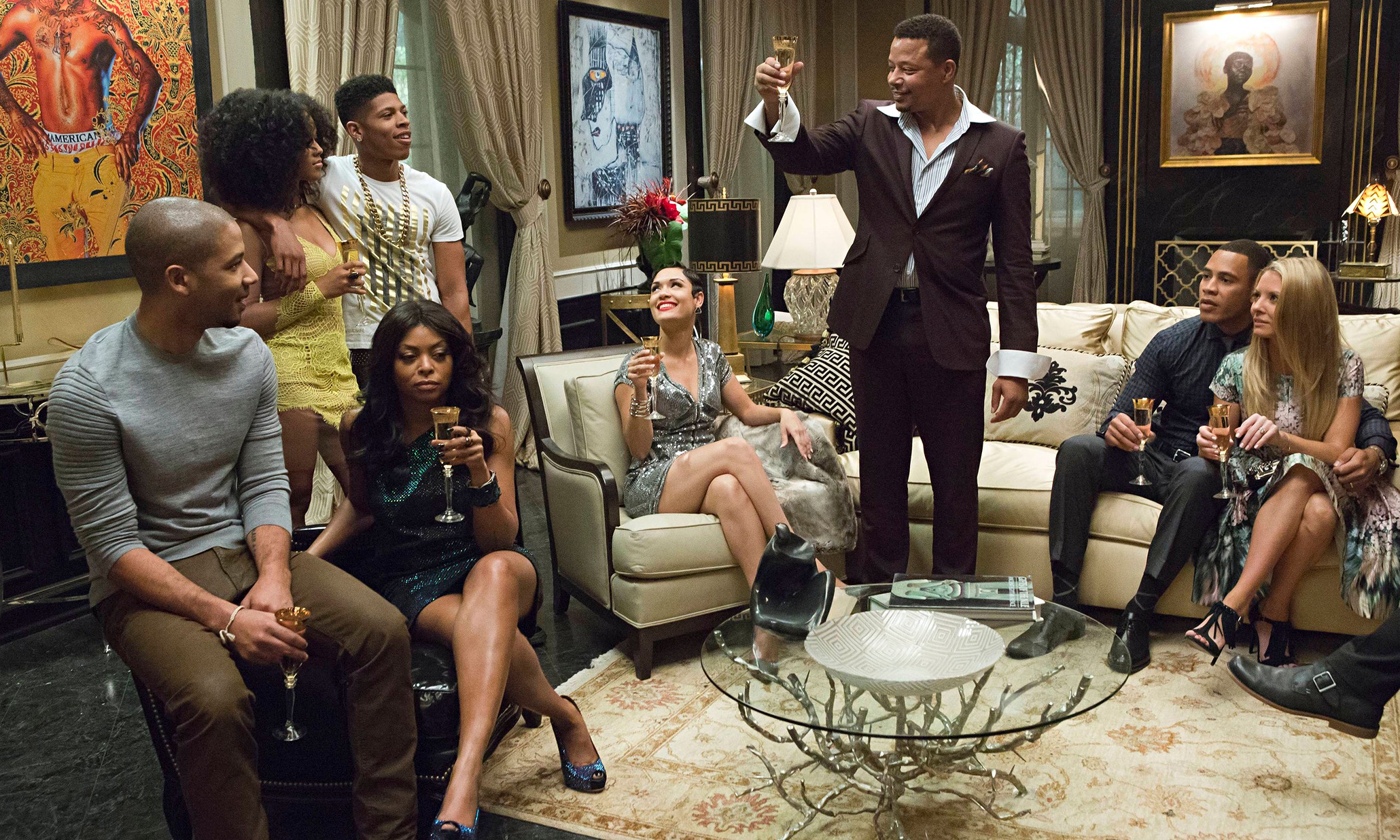 3.5/5
Empire State Of Music.
12 Episodes. Starring: Terrence Howard, Bryshere Y. Gray. Jussie Smollett, Trai Byers, Grace Gealey, Malik Yoba. Kaitlin Doubleday & Taraji P. Henson. Created By: Lee Daniels & Danny Strong.
In New York, dreams are made in this concrete jungle and like in Fair Verona, these bright lights that inspire you is where we lay our scene. Too over the top for you? Well this is a soap opera melodrama created by dynamic director of 'Precious' and 'The Butler" depth Lee Daniels. They're calling this one the urban 'Nashville', let alone the street 'Glee' and it couldn't be more fitting as the stories of hip-hop have compelled comparisons to the great genre of country music for quite some time, despite their distinctive spurs and sneakers differences. But what's is judged by a cover on the surface is a different books story underneath. Just like this raw and remarkable series that is the real deal of T.V. shows dominating over movie stories, like all your 'Gotham's', Daredevil's', 'Wayward Pines' and 'True Detective's'. Sure on the critical outside looking in, 'Empire' looks like it is decked out in record label cliches. The rapper turned mogul Diddy and Dupri wannabe Lucious Lyon is the king of this Jay-Z jungle, without a mis-spelling. With a hardwood office holding court as a basketball floor, with a hoop at the head of this Lyon kings table. His knights...or should we say heirs are playing chess, off of each other, or just straight playing for their place on the throne that one day Lyon senior will relinquish as they go for his Caesar on their Brutus behavior. Hey, this almost is Shakespearian. You see Lucious Lyon is dying in this new 'Breaking Bad' trend of good guys going bad, for broke and tombstone. Here lies a man crippled by ALS, but with ice water in his streets made, gravel paved veins. The rap ruler turned CEO and music president is about to pass the torch in his dying light to one of three sons. The young, cocky rapper. The homosexual singer son of a homophobe. Or the businessman who can only hold a c-note. And then there's the ex that wants her piece too. When it comes to the crunch of this cake don't forget about Cookie! Want anymore cliches? Good! Because this serious series turns them all on their heads. Heads that roll like this was about rock.
Rapping up some of the biggest names in the business, 'Empire' is an empire in itself. Even super producer Timbaland is manning the soundtrack boards like Hans Zimmer. Just wait until you hear the soundtrack of this musical. Lee Daniels latest joint venture even sees the legendary likes of Mario Van Peebles directing...but can they get him in the show please? This record industries all about the hot guest spots and this 'Empire' family features cameos from the likes of Brits Estelle and Rita Ora, soulful stats like Anthony Hamilton and Mary J. Blige, rappers like Snoop Dogg and Juicy J, a legend like Patti LaBelle and even Courtney Love. A Nirvana of Hollywood cameos continue with the likes of 'Captain America' soldier on security detail Derek Luke, heavenly, gospel soul Jennifer Hudson and 'Precious' talent discovered by Daniels, Gabourey Sidibe. Not to mention supermodel Naomi Campbell and superstar Oscar winner Cuba Gooding Jr. on a horse. The only one missing is the guy from Old Spice commercials. And just wait until you hear who they've got for the even bigger Season 2. Common, Alicia Keys, rock god Lenny Kravitz, funniest man alive Chris Rock and Oscar winning Marisa Tomei, whose just landed an iconic role as the best looking Aunt Mae, Peter Parker has ever seen in the new Spider-Man movie. M.J. and Gwen Stacey better watch out! And this isn't even the principal cast. One that is rounded out by the newcoming likes of the great Grace Gealey and un-doubtable Kaitlin Doubleday alongside veteran presence Malik Yoba. The sons of the sins of their father truly claim their place however. Bryshere Y. Gray, otherwise known as Yazz The Greatest plays another young rapper, with the cocky, balls to the wall, never be backed down outlook of a 21 year old with the world and his future at his any Air Jordan affordable feet. Cocky, but charismatic, somewhat charming and somehow contagious. Jussie Smollett on the other side of the coin flip has the wisdom of a 30 year old to ride with his woes. The true, breakout star of this showstopper, Smollett shows us his soul on R&B wax. Its more than the more than just feet moving music however as Jussie's role and character sings for equality and everyone everywhere who needs more than a voice to hear that not only do black lives matter, but the livelihood of anybody regardless of sexual orientation does too. Anyone ignorant to this learns their lesson the real hard way here. Trai Byers, completes the three kings and proves he pictures a portrayal just as important to modern day society and culture as his co-star, showing he is more than just the suit and tie to his brothers microphone and stand. For someone who plays a guy who all business can't sing, this man is so talented. Bringing to the limelight of the oft-ignored public, the consideration to the private pain issues of mental health that even some big time Hollywood pictures have shied away from. It's bold, it's brave and it's one of the biggest, most monumental and meaningful portraits 'Selma' actor Byers will ever paint. His one moment in the studio will never leave you as it reaches out through glass.
The same glass that the palm of Taraji P. Henson is pressing. Looking for a hand to be extended, or for someone to hear her call on the telephone. From the bars of jail, to being a prisoner outside her own hymn sheet company, Henson plays a woman scorned with a furious fire that won't be denied. The multi-talented and faceted actress adds another string to her bow and show to her reel (you can also currently catch her in Jim Cavizel's 'Person Of Interest') and is the emotional energy and passion stilettoe pointed swagger of this series. Still, whether anybody likes it or not this is Terrence Howard's 'Empire' and the iconic actor of influence, who brings inspired intensity to any role he undertakes is on a tour de force to make Lucious Lyon the next Walter White family man of trying to make the most out of his demise. He's more than the danger however. In the very first episode this guy puts his son in a trash can and a bullet hole in the head of his best friend. But no matter how bad this guys character is, you cant help but love and root for Howard's end of all of this and the reboot of his career that was cruelly crucified by industry big-wigs behind the scenes, as callous as his powerful but pitiful character on screen. Forget a Marvel or Jamie Foxx beef. Never mind an underrated and stocked classic album, Terrence shines through it and channels and portrays this all perfectly. He even left fellow hit Fox show, featuring his trademark, standout acting; 'Wayward Pines' early for this...and no one ever gets to leave that town. He's more than back. This is his moment that the game owes him...and just waits until he raps himself round that acoustic guitar we first heard on that offbeat, outstanding jazz album. He's running all over Mr. Johnson's lawn now! You don't even know. Plus with this rapping partner to former on screen flame Taraji laying down some of those real and raw rhymes that that album deal hoped for, is 'Empire' a spiritual sequel to 'Hustle & Flow'? If not it may just be one to 'Baby Boy' as after months of speculation and intriguing Instagram teasing on a 'Green Lantern' level, 'Fast & Furious' franchise face and music megastar Tyrese Gibson, fresh off the release of his last album 'Black Rose' will be joining season 2, reuniting with his heart Henson for his biggest collaboration since the one with R&B legends Ginuwine and Tank. Now by season 3 who will be the king of Lyon's land? Ones thing for sure this show has everything. Music industry criticisms versus innovations. Legend v legacy. Power themes and metaphors. Corruption warnings and lessons. The struggle for success and/or survival. The ideas of notoriety versus narcissism and anything else you could think of wrapped up in a social commentary that provides a chorus of a communion to more than just one culture. Even with all that however this show has so much soul like the James Brown like logo get up. And that's just the beginning. With so much more to come you ain't see nothing yet. There's nothing that can bring down this Empire. TIM DAVID HARVEY.