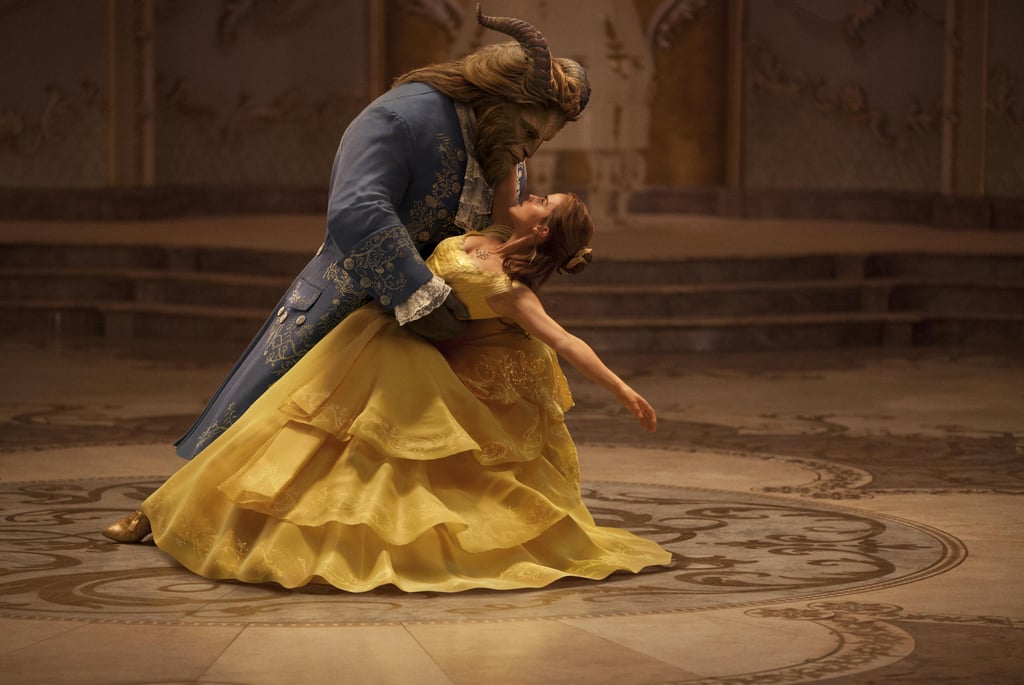 4/5
Fantastic Beast.
129 Minutes. Starring: Emma Watson, Dan Stevens, Luke Evans, Kevin Kline, Josh Gad, Ewan McGregor, Stanley Tucci, Gugu Mbatha-Raw, Ian McKellen & Emma Thompson. Director: Bill Condon.
Beauty begins again as Disney go into live action beast mode with their Belle of the ball. And you're their guest Princess Hermione. 10 points to Emma Watson. She may not be the face of the 'Harry Potter' saga anymore, but she is the yellow dress of this fantastic 'Beauty and the Beast' thread of a classic coming into her own weaving and waltzing light. Shining in this Spring post Summer blockbuster that will last in theatres into the Winters beyond June. In a story as old as time. Or the original animated classic from 1991 itself. A roaring success from Disney that became the first animation in movie history to be nominated for the Best Picture Academy Award. This Oscar darling almost had it if it wasn't for those lambs that like to keep quiet and Hopkins' Hannibal beast with even more of an appetite. This monster almost even beat Schwarzenegger's 'Terminator' box-office machine. Fast forward to the Cybernet future of 2017 and on this judgement day this rebooted remake may just go down as the greatest Disney live-action film yet, again years before 'The Lion King' is set to make us proud. No matter how good fellow princess 'Cinderella', last years 'Jungle Book', or even Angelina Jolie's 'Maleficent' is. Certainly this film is on record to be the most successful live cinematic take yet...and you can expect it to flood the next Academy with awards that gleam like that iconic dress as well as the ticket gates. You really can't lock this beast away. Think you can? Be our guest!
Beautiful in her grace and humility, 'Harry Potter' megastar Emma Watson has just found a new franchise for her face as she really is the Belle for this ball. And oh how she is having one too. Singing and dancing like clockwork with candlesticks. No wonder she and the work and rug cut out for her passed on Emma Stone's 'La La Land' Oscar winning role alongside Ryan Gosling. In love with more than just an ugly duckling, this Emma has never had this much fun. And she's the effervescent energy and luminous light in potentially one of Disney's darkest sagas of their storied history made even more live action real and raw. If you thought 'Snow White' brought it to your castle door with the soldiers of 'The Huntsman', then just wait until this princess with a palace as iconic as the one on the Walt Disney introduction I.D. with a ring of roses around it. And we'll all fall down and in love with this. And it's not a case of Stockholm Syndrome. More a dream, in vision made up once upon a time by 'Dreamgirls' director Bill Condon, who also shone a light on the nightwalkers of the first two 'Twilight' epics...arguably the best ones. What? You going to go with the last ones epic end that was just a dream? This films finale is much more fitting. You've never seen last waltz's so wonderful without a glass slipper. Your eyes have never been glazed this much since Simba clawed on for dear life like Bambi's mum. You've never sung along this much since 'Frozen'...and yes, we're sure that remake is coming but for now it has to wait in line...let it go! Right now live action Disney films have never looked so real...or genuinely magical.
Beastly as he may seem, 'The Guest' star Dan Stevens really is the prince host of this picture that would be king. The 'Downton Abbey' star currently moonlighting for FX as a legacy made Marvel mutant in 'Legion' really is effecting something much more special here. The Great Brit knows how to play it up to the ham, like his Knight exhibition in 'Night Of The Museum-Secret Of The Tomb'. But here this hairy man in the mirror with horns knows how to reflect the deeper, realer anguish of a man made monster by a curse kissed from the thorns of a rose. Wilting before our eyes his motion capture goes from white dots and green screen to weeping and seeing to be believed in all it's beauty of each and every emotion. This man truly is a beast in more ways than one. Showing not only the tortured soul of torment behind the fur, but the warmth too. Watson may be the star power, but Stevens has the strength to shoot for more. And there's plenty more room on the table for a growing guestlist. Like the ever-glad Josh Gad. Already a Disney legend for his iconic Olaf snowman built of 'Frozen's' mass merchandised, powerhouse popularity, he now makes an even greater legacy of change, playing Disney's first openly gay character. Perfect alongside a man who is in real-life, Luke Evans. Here 'Dracula' plays the villain Gaston with untold brilliance, something like a 'Baston'. With the cocksure, 'Captain Morgan' fuelled arrogance of a man who thinks he really did slay a dragon like in 'The Hobbit's' 'Desolation Of Smaug'. No wonder Belle's father Kevin Kline is in and out with his blessings. But you have to hand it to all Kline does do that to here. Because we haven't loved this man this much since 'Last Vegas'. There's more chips off the old block, or clock as Sir Ian McKellen plays Cogsworth, moving hands like Magneto aswell as hearts. Whilst Ewan McGregor makes a French candlestick funny, scene stealing favourite and as much fun as the time he spent a night in the 'Moulin Rogue'. As the one for Ewan is a feather duster who goes by the name of the great Gugu Mbatha-Raw. An actress who made her name in no other but a film called 'Belle'. There's even enough notes for a stunning Stanley Tucci to get his teeth into the keys of a piano man with a Beethoven wig that would make his 'Hunger Games' host jealous. But it's Emma Watson's old 'Harry Potter' alumni Emma Thompson as Mrs. Potts that really is just the cup of tea. As 'Nanny McPhee' is fantastic in singing the Celine Dion 'Beauty and the Beast' theme song as old as rhyme. Forget John Legend and Arian Grande. I'd know who I'd more like to have a brew with. This beast really is a chip off the old block. As tested as time itself. Because some love stories happy endings we're made to last no matter how they look. And there's nothing more beautiful than that.
TIM DAVID HARVEY.
See This If You Liked: 'Harry Potter', 'Maleficent', 'Cinderella (2015)'.