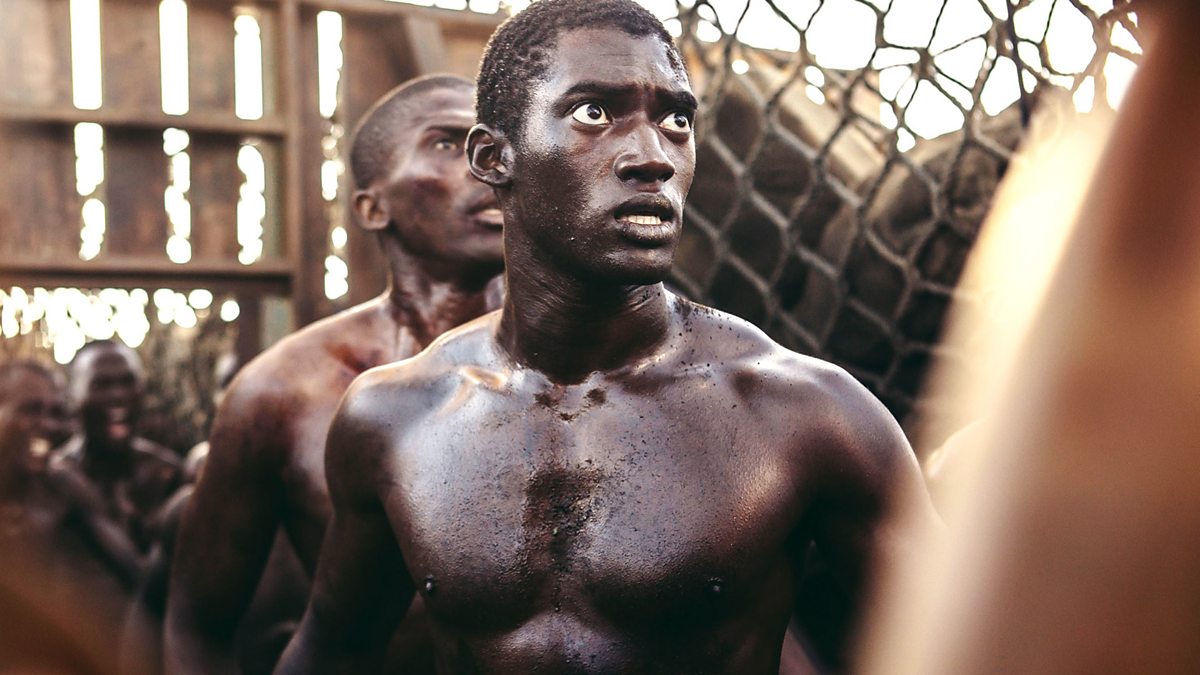 3.5/5
Black History Must.
4 Episodes. Starring: Malachi Kirby, Emayatzy Corinealdi, Anika Noni Rose, Rege-Jean Page, Matthew Goode, Jonathan Rhys Meyers, Anna Paquin, Tony Curran, Cliff 'T.I.' Harris, Derek Luke, Mekhi Phifer, Mandela Van Peebles, Sedale Threatt Jr., Forest Whitaker & Laurence Fishburne (Narrator). Executive Producer: LeVar Burton.
Like the rose that grew from concrete, the 'Roots' of this History Channel revival of the 1977 groundbreaking miniseries is beauty and strength bore from the hardest of trapped times. Making this all too real account a must this Black History Month. Now it's almost bordering on ignorant disrespect to say, "if you liked '12 Years A Slave' then you'll like this". These type of historical dramas from small to big screen aren't exactly what you could call, or term "enjoyable". Yet just like 'Schindlers List' account of the absolutely evil persecution of Jews in the second World War, it's necessary viewing. Essential in terms of education and learning, from young to old. So we can all be taught how to treat people better. Whether in regards to our blind ignorance or blatant rage. From people of different races and religions, to men and women, whatever the age. This is more than being rawly reminded that the n-word is a abhorrent and horrible as the people that use it as a weapon, no matter how many times you hear it in a rap record, or mainstream movie. This is a wake up call in the terrible Trump-era that all men...and women are created equal...and will always remain so under the eyes of God, the highest power. It's getting deep and heavy now, but time and tide such is life at the moment. We need these 'Roots' of historical storytelling more than ever right now. Especially as the Sundance runaway hard-hitting hit 'Birth Of A Nation' (which took it's title from an old, outright disgusting Klan movie and flipped it with a middle finger) has been cut down from everyone from critic to Oscar (even in the year the Academy finally got it right (aside from the envelope) and honored movies like 'Moonlight', 'Fences' and 'Hidden Figures') due to the controversial past of actor/writer/director Nate Parker who was accussed of rape and later acquited, though his accuser commited suicide recently. Whatever the opinion or truth, 'Nation' is also critical viewing that now remains unseen. Yet the story of the slave rebellion lead by Nat Turner is here in part in this four episode miniseries which takes us back to the story of the man that will always be known as Kunta Kinte.
Never Toby! Now today you may know the genuinely affecting actor LeVar Burton from being the iconic visor wearing Geordi LaForge in 'The Next Generation' of 'Star Trek'. But his roots belong to the indelible image of his hands bound together on the front cover/poster for the original 1977 series. For he played the young lead of 'Roots', Kunta Kinte. And play it did he with pure passion and personification. Now a remarkable 40 years later he starts the revolution again, serving as executive producer. Outstanding in his overseeing of a series that features different, dynamic directors like the maverick actor turned behind the scenes Mario Van Peebles. Now Burton plays the background too it's up to young actor Malachi Kirby to trace the roots of Kinte. The London kid who made his bones in British shows like 'Eastenders' and 'Doctor Who' matures massively over just a few episodes, albeit hour and a half ones that serve as mini-movies all in themselves. Malachi is a revolution as Kunta. Even owning the incendiary "tell me your name" scene with harrowing haunts of the old, yet now with a brutal new level of hard hitting, graphic violence that is just too much to take. Alex Haley's novelized, storied saga focusses on family and this acclaimed adaptation features such. Emayatzy Corinealdi is brilliant as Kinte's beautiful bride Belle. Whilst 'A Raisin In The Sun' play and 'Dreamgirls' star Anika Noni Rose stirs the soul and every emotion as their daughter Kizzy sold to a different plantation and sicker than sick slave owner. Her son 'Chicken George', played excellently by young Maxwell lookalike Rege-Jean Page fights with effervescent charisma and his story cooped into the world on cock-fighting is one of frustrating clipped wings spread as far as they can go. That's quite a lot to take and this explicit 'Roots' weeds out everything at a relentless pace. To show both all the story compressed in six hours worth of screen-time and just how bad it all was, every little bit. No holes barred so we can really see.
Meanwhile on the utterly wrong side of history 'Watchmen' Matthew Goode is just so good at showing us just how bad it really was. Just like Tony Curran's vile character, an actor who has already shown us in just one episode of 'Daredevil' how close he can get to Satan himself, torturing The Punisher of all people. But he's nothing compared to Jonathan Rhys-Meyers' slave owner of pure, purile evil. It takes an awful lot for Rhys-Meyers to be this horrible. He literally treats even the slaves he likes like collateral...to hell with the damage. Thank goodness for 'X-Men' star Anna Paquin gone rogue...igniting everything she touches. Or the length and breadth of a great cast who portray just a footnote fraction of all the boldy brave men and women who endured and then overcame slavery. From rapper T.I., government actor name Clifford Harris-currently starring alongside singer/actor Jamie Foxx in the cop/crime drama 'Sleepless'-who has been doing this since his impressive turn in Denzel Washington's 'American Gangster'. To even a sensational, strong in the face of tyranny Sedale Threatt Jr. the son of a former Los Angeles Lakers swingman from the NBA of around '96. Even director Peebles' children get a look in with the mesmerizing Mandela Van Peebles playing the type of people that would make Nelson proud. There's even more big names of recognition thanks to 'Antwone Fisher' star Derek Luke who displays a sincerity of strength, despite being shackled and drawn to a slave ship. Whilst former 'E.R.' lead and '8 Mile' and 'Clockers' star Mekhi Phifer clocks his best screen time in years, reminding us all just how underrated an actor he is regardless of race or status in the industry. The legends are here too however, as Forest Whitaker-who from 'Arrival' to 'Rogue One: A Star Wars Story' has been racking up some of the best pictures of last year-plays Fiddler, a violinist with beautiful changing tunes of passion and restraint. Forest's gumption here is undeniable. Whitaker in this multi-character piece akin to his Lee Daniels 'Butler' lead, performs like he's conducting this whole thing, but pays respect to his audience and orchestra of fellow players. And it all comes note right together under both the moving melody of music from Amir 'Questlove' Thompson, the drummer of no other but, The Roots and the spine-tingling narration of 'Blackish' sitcom star and storyteller Laurence Fishburne, currently in cinemas reunited with 'Matrix'- co-star Keanu Reeves for 'John Wick: Chapter Two'. A broad baritone to make both James Earl Jones and Morgan Freeman proud. These 'Roots' are stories that need to be retold and told again. Even if the force of which hits you more like a blunt instrument than a wake up call. Sometimes only the truest take proves a worthy testament and this revival recognises it's perfect predecessor with homaged honor. Now hopefully this almost 50 year story of centuries gone will grown and grow until all the ignorance wilts. And the roots of something much more beautiful can bloom.
TIM DAVID HARVEY.
See This If You Liked: 'Birth Of A Nation', '12 Years A Slave', 'The Butler'.