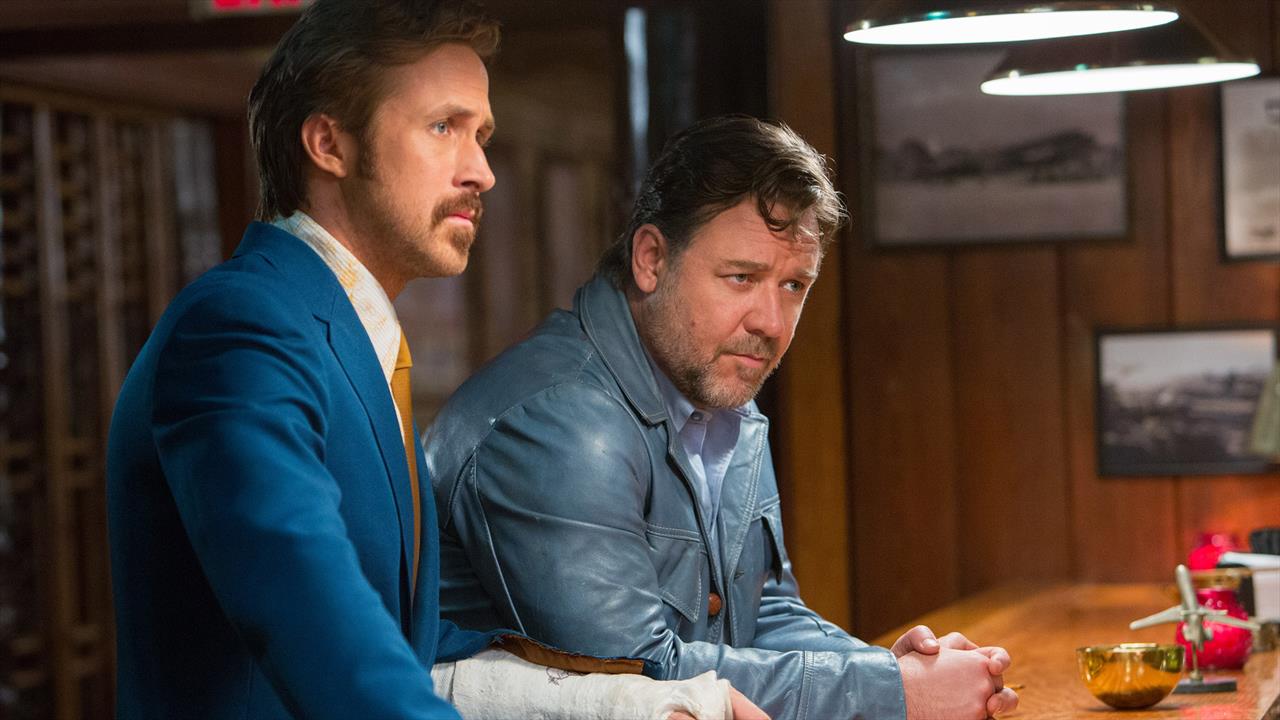 4/5
L.A. Unconfidential.
116 Mins. Starring: Ryan Gosling, Russell Crowe, Angourie Rice, Matt Bomer & Kim Basinger. Director: Shane Black.
Nice guys finish la...ahh you know what? Screw that corny, cliched crap! Just ride shotgun with 'Iron Man 3' director Shane Black's 'The Nice Guys'. You'll get plenty of 'Kiss, Kiss, Bang, Bang' for your 20 bucks...even if it is a recession. After puckering up and shooting twice with Robert Downey Jr for Marvel comics and in also reuniting the "hush, hush" of Russell Crowe and Kim Basinger, Black is back to the offbeat, cult favorites that made Shane's name. Back in the 90's days, Shane Black had scripts copped for hits like 'The Long Kiss Goodnight' and 'Lethal Weapon', so it's only right today he brings the buddy cop genre back to Hollywoodland like another 48 hours all over again. In this Disco electric, neon, noir novel of Los Angeles crimes, the city of fallen angels spreads its wings to a Gosling and Crowe off Mullholland Drive. Offset in the seedy seventies boogie nights with our two leading men, lead detectives searching for some Misty Mountains...and we're not talking about the type those Hobbit's low key sang about. There's fear and loathing here...even if its in Los Angeles and not Las Vegas, in a cop comedy that definitely doesn't go by the book as weird and wonderful as Phoenix's 'Inherent Vice' last year. Gosling and Crowe are said to be difficult to work with and together make for the "worst detectives ever' here. But really these guys are nothing but nice.
Gosling, suited and booted with the same tailor as Ron Burgundy (not to mention the same lady-tickler) really anchors this picture. Playing it all perfectly he's a six shooter of charisma...every bullet aimed with charm and loaded with one liners. He was effortlessly, attractively cool in 'Crazy, Sexy, Love'. The coldest, strong, violent type in 'Drive'. And pin stripe perfect in 'Gangster Squad'. But now with another detectives notebook, dressed in blue valentine the man that dramatically stole Hollywood's show in both 'The Ides Of March' and 'The Place Beyond The Pines' is just so crazy, funky cool here. Even when at the sight of a lot of blood lurching, catawalling and screaming like a child, not once...but twice(?) as the trailer will lead you to believe he puts his Cadillac through the boy from the third 'Iron Man' movies family living room. Yeah..."nuanced"! But then again if you had a king sized bee in the back of your car (no bonnett) trying to catch a buzz, you'd wonder what your cigarette was laced with too as you worked the steering wheel like you just dropped that Marlbro on your lap. Something probably 'The Big Short', big shot, "jacked to the tits" for the previously untapped, comedic genius of a serious actor having another career year alongside the A list contemporary company men likes of Steve Carell, Christian Bale, Brad Pitt and now Russell Crowe.
Crowe being just a little left of murder, kills it pound for pound as the flesh for hire muscle that beats down any notion that his career is being taken to the cleaners. It's going to be a good year for the Gladiator. Even if his Hawaiian shirts and plastic faux leather jackets weren't even fly back in the seventies, he still looks the part here. If Ryan is the cutting himself whilst shaving in his car, or whilst breaking and entering on a P.I. case with his Magnum moustache slapstick, then Russell is the beat-bat Louisville slugger with Jack Johnson on his left and Tommy Hearns on his right ready to knuckle up if he hasn't already struck you out. And that's just the easy way...Crowe's character has heart too and a soul behind those guns even if it is more locked than loaded. The kind of warmth that found itself next to Kim Basinger's white gowned, Black Dahlia in 'L.A. Confidential'. The kind of heat that could still ignite a reunion even decades later. And it's nostalgically nice to see this pair coupled on screens again. Basinger's basic supporting role may not win her anymore Oscars, but she's still in the Academy. Showing even more depth over the decades. But still in this film for the guys its actually a lucky 13 year old newcomer that steals the show from all the big names and kids. You'll be hearing the name Angourie Rice soon as much as you've heard the name Chloe Grace Moretz over the maturing years. Even Matt Bomer's bones of a classic villain in all matt black attire is bad to the b-b-bad, armed with a chopper that will cut you in half. He more than just looks the part...he suits you sir wears it. Even managing to pull off a mole on the cheek that will no longer leave you wondering what happened to Enrique's after the surgery. Heroes don't really find themselves in this buddy comedy that it is more private eye, meets eye bruiser than cop classic, but the guy Black has really given us a noir, cult classic that's action is as entertaining as its in-joke plot is all over the place. Shane has captured all the seventies asthetics and this pictures acting smarts perfectly. From the decade detiriorated, burnt out Hollywood sign establishing opening to throwing Rice at the casting of Gosling's childhood sweetheart daughter Holly. It all comes together so pop art perfect that you really hope this dynamic duo make it a double for a sequel from the director that likes to tie up trilogys. Now that guys would be...well, you know! TIM DAVID HARVEY.