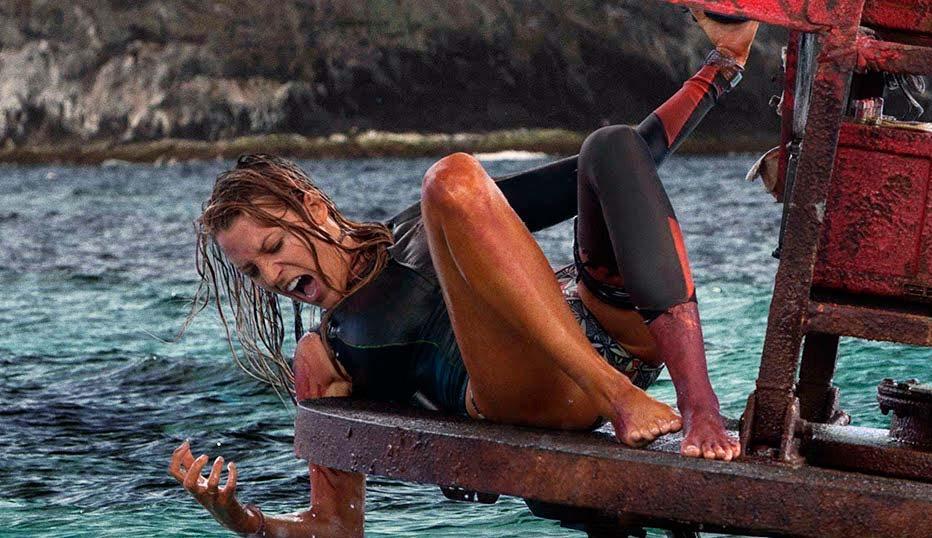 3.5/5
Deep Blake Sea.
86 Mins. Starring: Blake Lively. Director: Jaume Collet-Serra.
Finding Lively. This Valentines Day it was easier to locate Dory or Nemo than Blake. As this February 14th you couldn't find the former 'Gossip Girl' actress in a cinema anywhere....not even on date night. Not even when her other half had the biggest movie in the world out, with the comic-book formula breaking 'Deadpool'. Why do you ask? Well would you like to watch Ryan Reynolds have mashed potato eaten out of his...well we'll leave it to your imagination, this is a family friendly site!? Wait...hang on stupid question! But what if Ryan Reynolds was your husband (I know, I know! Settle down, settle down)?! And the woman eating the mashed potato was model actress Morenna Baccarin of 'Gotham'? And what if you couldn't even catch a red eye without it being on every in-flight movie? Changes a few things doesn't it? Happy Thanksgiving indeed! Well now Blake's back, set to liven up a turkey of a Summer season of blockbusters that saw a dry spell until it went under the sea for 'Finding Dory'. Now the heavy hitters have struck out and in looking to beat the August rush before the miserable weather hits, Blake Lively brings a California surf (actually Texas) to a tropical paradise of a mysterious island. Running abyss deep with what she does in 'The Shallows', this leading lady in the water is a winner like Michael Phelps. Striking gold in a film that's all 'Jaws' killer no filling.
Excruciatingly good, Blake is brilliant as one woman against a killer white shark in full attacking beast mode, more annoying than that one guy that just has to like all your photos on Instagram. Reaching new depth in what on the surface looks like the shallow end, every make-up and perfume brands favourite face is at her best yet. Even besting her scene stealing, war paint unrecognisable Boston broad in 'The Town' that Ben Affleck built. Far from just another fetish flick masquerading as another shark tale, Lively steps out of the speedos and more than dips her toe into something that isn't merely a bikini broadcast for your next swimsuit issue. This film doesn't bite to that, it needs a bigger beat. In Reef gear the sheer tension of this film cuts through you like coral massacres your leg as Lively's life is on the rocks with more than just one twist...forget a good line. Who would have thought that swimming from a Killer Whale carcaas to a rock and then a buoy with all about half a swimming pools length between them, under an hour and a half of movie time would make for exciting cinema? Well you didn't factor the greatest white that rules the ocean like a lion rules the jungle or a T-Rex the Jurassic. Making this film more terrifying than the 'Blair Witch' and 'Lights Out' purge of horror movie trailers that proceeds it. And it's all thanks to Lively's legitamate acting smarts. Proving she can carry a big picture all on her own (with her own company being the nicest tour guide ever, player perfectly by 'Pirates Of The Carribean' actor Oscar Jaenada, a couple of bodies and a curiously, classically named Seagull that deserved the 'Best Supporting Actor' Oscar), life or death, just like when husband Reynolds was 'Buried' alive for one of the best 90 minutes of Hardy 'Locke' like singular acting of all ranges of emotion in the claustraphobic confides of a coffin. Guess he really shouldn't have had bangers and mash then?
No wonder Lively's all in, all on her own. She apparantly passed on the squad. Turning down the pudding chance to play Harley Quinn (like Ryan Gosling did Leto's Joker) before the role went to Aussie ruler Margot Robbie who redefined her. But if you think that was career suicide-especially in the year of mercs with mouths-than just wait until you see her wade into these infested waters. Trading a Harley for a Hurley, Blake does more than catch a surf, she masters them. Waxing the lyrical motions of the offbeat poetry of the sea. Waves...made. Bringing ever emotion out of her strive to survive self like only the deep blue sea can do to you this is an all-encompassing, compelling career characterisation. Just watch her react to someone being dragged to the depths by death. You don't need to gratiously watch it yourself...her face says it all. Just like her body language speaks to us in a way a thousand words couldn't do. And not in a sleazy way...remember this is no boys beach film. From clinging to life on the foulest smelling, biggest rotting corpse you've ever seen, to suturing herself, Blake Lively does it all. A live wire igniting everything like a flare...or can we say a 'Green Lantern'? Illuminating the sea like the other strands of plot and threat to life, six feet below that animate like neon. It's clear Liam Neeson 'Taken' aficinado director Jaume Collet-Serra has moved on from the 'Non Stop', 'Run All Night', 'Unknown' features that are a little too Neeson familiar, albeit entertaining to something far more exciting. And vividly visual. From the depths to the shallows. The beautiful sea scaped spectacles and some of technically the best surfing scenes you've ever seen coming for you in a film ready to ride IMAX. GoPro go figure! Some of the crest of the wave scenes shot sensationally are as thrilling and nerve wracking as the shark attacks that this film gets its chomp into. There's nothing shallow about this picture. A brilliant B-movie roll with a mainstream jagged edge. Dive, dive, dive in! TIM DAVID HARVEY.